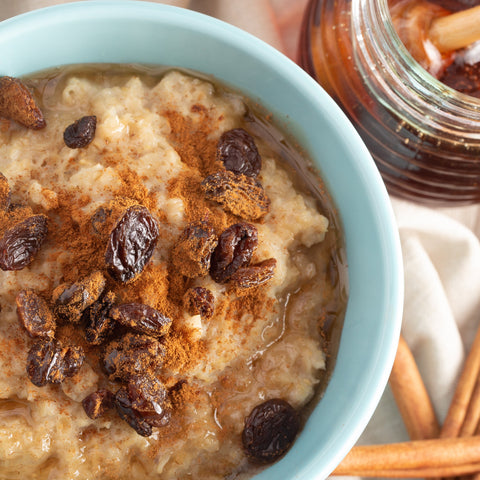 The Prepared Pantry
Maple Cinnamon Sugar 13.5 oz.
A fabulous combination of maple, cinnamon, and sugar
Put it on fruit, cereal, cookies, or toast
Nearly a pound of maple-flavored cinnamon sugar
What do you do with maple cinnamon sugar?
This isn't just cinnamon sugar; it's made with a maple flavor. And there's nearly a pound here.
Add a teaspoon of Maple Cinnamon Sugar to your morning oatmeal. Sweeten your hot beverages with this tasteful mix. Add it to your baking. Spread a little on your French toast. You'll find a thousand uses for this maple cinnamon sugar.
When I was a kid, my mother made cinnamon toast for our family. She spread butter on the bread and sprinkled the cinnamon sugar over the butter. She placed the slices on a baking sheet and turned the broiler on. When the broiler got hot, she slipped the sheet six inches below the hot element. The heat melted the cinnamon sugar into the butter, forming a crusty, cinnamon sugar coating.  It was yummy! 
Ingredients: sugar, cinnamon, and other spices, cornstarch, natural flavor, and caramel color. This product is packaged with equipment used in the packaging of baking mixes and may contain traces of soy, eggs, wheat or nuts.

I sprinkled the maple cinnamon sugar on the last 4 trays of apple slices before dehydrating them. WOW! The flavor is incredible. I will definitely do lots more apples this way next year. Will also be using some in my apple pie filling recipe next canning season.
Very good!
I've only used so far sprinkled on the old fashioned Spice Cookies. My plan is for oatmeal…but will experiment with other options .
Excellent for cooking with
We use this on oatmeal pancakes and sugar cookies!