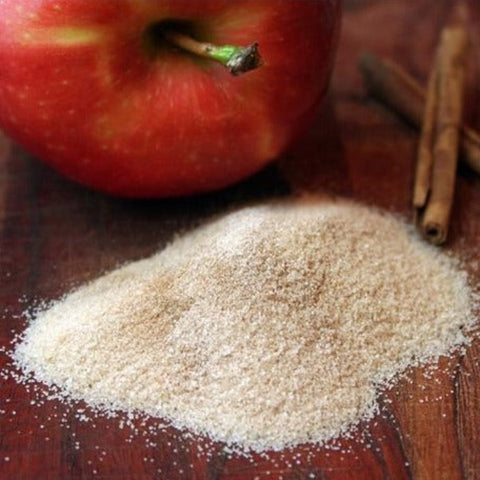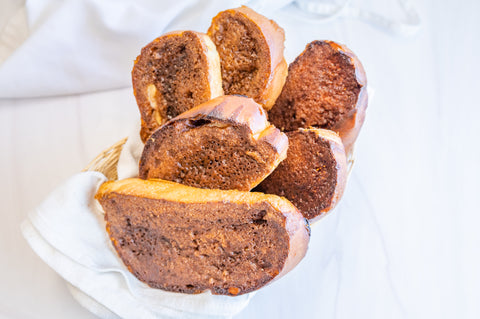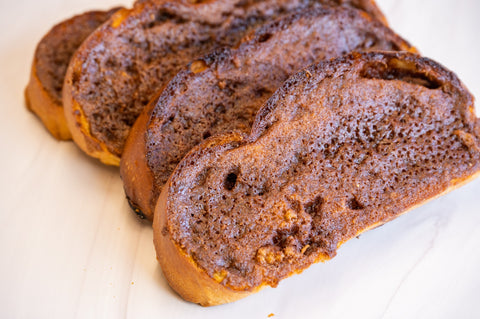 The Prepared Pantry
Apple Cinnamon Sugar 13.5 oz
See how to make Cinnamon Baked Apple Toast
A fabulous combination of apple, cinnamon, and sugar
Put it on fruit, cereal, cookies, or toast
Nearly a pound of apple-flavored cinnamon sugar
What do you do with Apple Cinnamon Sugar?
When I was a kid, my mother made cinnamon toast for our family. She spread butter on the bread and sprinkled the cinnamon sugar over the butter. She placed the slices on a baking sheet and turned the broiler on. When the broiler got hot, she slipped the sheet six inches below the hot element. The heat melted the cinnamon sugar into the butter, forming a crusty, cinnamon sugar coating.  It was yummy!
This isn't just cinnamon sugar, it has a distinct sweet apple taste. And there's nearly a pound here. You can make lots of sugary, crusty toast.
Add a teaspoon of Apple Cinnamon Sugar to your morning oatmeal. Sweeten your hot beverages with this tasteful mix. Add it to your baking. Spread a little on your French toast. You'll find a thousand uses for this apple cinnamon sugar.
Baker's note:  
It's July, and I don't feel like heating up the broiler. Here's a quick easy way to make Apple Cinnamon Toast on the stovetop.
Place some apple cinnamon sugar in a bowl and set it near the stovetop. You're going need a large spoon, a spatula, and a cube of butter.
Your also going to need a cookie rack set on a cutting board near the stovetop.
Place one to two tablespoons of butter in a heavy skillet and heat the butter until melts and is bubbling. Place a slice or two of bread in the hot skillet and scoot it around to sop up hot butter. When the bread is coated on the bottom side with melted butter, flip it.
Immediately, with the spoon, sprinkle a layer of flavored sugar over the melted butter. Add more butter to  the skillet as needed.
Flip the bread over, now with sugar side down. Scoot the bread around in the hot pan.  In 30 seconds or so the butter and sugar mixture will be melted and bubbling. Sprinkle flavored sugar over the remaining side.
Flip the bread and move it around to sop up the melted goo.  When both sides have a coating of melted butter and sugar, remove the bread to a rack to cool and start the next slices.
This sounds a bit complicated but it's not--it's quick and simple.  You'll have it down in the first two slices and it's faster than scrambling a few eggs.
Butter and flavored sugar on pan-fried toast may be little indulgent, but it's quick and good.  It's perfect for slowing a teenager down as he or she is heading for the door.
Ingredients: sugar, cinnamon, natural and artificial flavors. This product is packaged with equipment that is used in the production of baking mixes and may contain traces of soy, dairy, wheat, eggs, peanuts, and tree nuts.
Love it
Very unique and a nice, not overly sweet, flavor. Love it on a big toasted English Muffin that is buttered.
Apple cinnamon sugar
I love adding 1 or 2 teaspoons to breakfast breads and cereals. I add it to cookies that I bake. Its a great added flavor.
Apple Cinnamon Sugar
I love this stuff. I used it when I dehydrate fruits. Gave the fruit a different element. I can't wait to use it on or in a recipe. A+++
Very Happy
I am very happy with the products I ordered. There are a few I have not made yet. My only disappointment along the way is the Oatmeal Cookies. Of course, it could be that my recipe is THE BEST! LOL
Very flavorful and delicious
Exceptional product that can be used in several ways! Aside from toast, sugar cookie topping, additional cupcake/cake topping. Add to frosting too. I really am impressed with the flavor and quality.