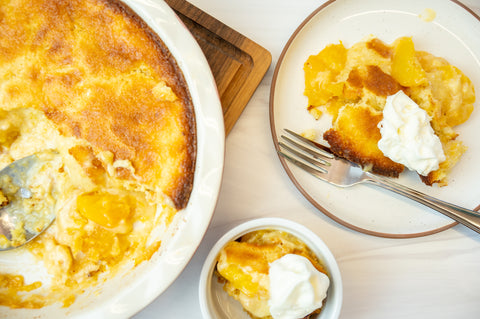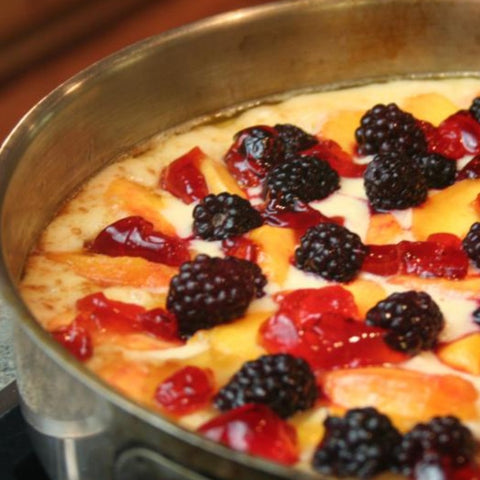 The Prepared Pantry
Skillet Cobbler Mix
A versatile cobbler mix that can be thrown together in a pinch and tastes like a dream.
"The best and fastest dessert ever."
Make it with your favorite fruit. Make a different one every time.
Bakes beautifully in a 10-inch skillet, a baking dish, or even your deep-dish pie pan.

Directions with tips and tricks for the best results are included.

Quick and so easy to make!
Cobbler just can't get better than this! With a gorgeous crackly top and a melt-in-your-mouth texture that will complement any fruit filling, this is the best and easiest dessert you will make this season!
This cobbler mix is quick to throw together and requires little hands-on work. It works like a magic trick! Fruit is placed on top of the prepared batter, and it magically sinks to the bottom while the batter rises and encapsulates the fruit when baked!
"Best and fastest dessert ever. We have been using the skillet cobblers for several years. They are easy to make and a delight to serve. The suggestions for fillings on the package are only the start. I create different ones every time I make one."  Jolene Callison-Weigel 
Use any fresh or frozen fruit you have on hand to make a simple and comforting dessert that can be enjoyed any time of the year! It is sure to impress every one of your dinner guests.
The fruit is not included in this mix, so it is the perfect base for experimentation. The options are endless!
"A pineapple cobbler? My family loves this pineapple cobbler. Who would have guessed it?"  Lily 

"Cool! Love this mix. A 20 oz can of pie filling is just right. Next, we're going to try local, fresh apples. Then, again while camping. This mix and method is super easy and delish!!!"  Robert Bigelow 
Serve with whipped cream or vanilla ice cream for a perfect summer treat that can't be beaten!
This mix is the perfect size to fit in a 10-inch oven-safe skillet or baking dish.
"Easy but fabulous. I'm writing a second review because I bought four of these to start with (based on my success with other PP mixes), so I think it's only fair to say GO AHEAD AND USE PIE FILLING. I've read some cobbler posts around the web with Snobby Cobblers saying to only use fresh fruit - but I made my second one with raspberry pie filling and almond paste to sweeten it (rolled out and cut into small pieces that mostly melted). It was fabulous! A little lite whipped topping, and I could happily eat the whole thing for Fat Tuesday. This cobbler takes so little time to make - definitely give it a go! (This cobbler closed over the fruit more than my first one - it doesn't seem to matter taste-wise, but the other one was prettier with the fruit sticking out.)"  Carol Worthy 
If you love cobbler, give this skillet cobbler mix a try!
Mango Coconut Cream Skillet Cobbler 
If it's January and you're dying for a peach cobbler, buy mangoes. In a cobbler, they're close.
This is a very, very good skillet cobbler, one of my favorite.s  We tried it with both coconut whipped cream and brown sugar whipped cream.  I liked it better with the coconut whipped cream; Debbie liked it better with brown sugar.  Either way, this is fabulous.
You will need a ten-inch, oven-proof pan. For the batter and for the pan prep, follow the directions that comes with the mix.
Preheat the oven to 350 degrees.
Ingredients for the filling:
2 tablespoons butter
2 cups fresh mangoes, cubed
2/3 cup Bavarian cream pastry filling
1/2 cup shredded coconut
1/2 teaspoon coconut flavor
Make the coconut cream by mixing the coconut flavor and Bavarian cream together in a small bowl.  Fold in the coconut.  Set aside.
Mix the batter.
Place the butter in the pan, place the pan in the oven, melt the butter until it is hot but not scorched.  Remove the pan from the oven.
Immediately scrape the batter into the hot pan. 

 

Place the mango pieces on top of the batter.  Spoon coconut cream filling over the mango pieces.

Bake for approximately 45 minutes or until a toothpick inserted in the center of the pan comes out fairly clean, with some crumbs clinging.  The top should be a light, golden brown.
Note: Different pans may require different baking times. 
For the Coconut (or Brown Sugar) Whipped Cream
2 cup whipping cream
4 tablespoons brown sugar
1 teaspoon coconut flavor or brown sugar flavor
Whip the cream with a whip attachment.  When peaks start to form, add the sugar and flavor.   Continue beating until stiff peaks form.
Whipped cream will become soft and melt as it sits, especially at room temperature.  To slow melting, add one tablespoon meringue powder to the whipping cream before beating.
skillet cobbler mixes
The Skillet Cobbler mix is our favorite...we love it and always have it on hand. It is perfect for barbecues, or formal meals with guests. It is super easy to make and so delicious.
Pecan skillet Cobbler.
I love the skillet cobbler mix. Easy to use and never fails to please everyone that eats it. Just recently a family member ask if I could make them a pecan pie. I was making a Skillet peach cobbler and had another mix so I thought I would make a second Skillet Cober using a jar of "Pecan pie in a jar". It came out just wonderfully!! Everyone said it was the best tasting pecan pie they had ever had! Now everyone wants me to make it for every holiday.
Very convenient to use these cobbler mixes when you have a lot of fruit.
We had a very prolific plum tree this year. I froze some and used the cobbler mix to use some right away. A time saver !
Cobbler
Family liked it but not one of their favorites. I myself, liked it.