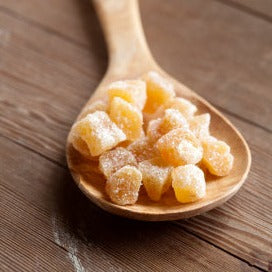 The Prepared Pantry
Candied Ginger 12 oz
"These are amazing!" Some discoveries are simply too amazing not to share. This is one of them.

We discovered these candied ginger pieces in a store in Chicago.  At first, we believed they belonged to holiday baking, fruit cakes, and such. But they are much more than that. They're magical in cookies, muffins, and quick breads. They're worth trying in anything that calls for raisins.
This is a whole new world. You've probably never worked with candied ginger before. Once you've tried them, you won't be able to leave them alone. Even your kids will love them.
You get a burst of flavor in every piece, a different taste experience than adding ground ginger. But what it really seems to do is showcase the dominant flavor, and make it more pronounced and exciting. 
We add candied ginger to our favorite cookies, cakes, and desserts. Consider it also in breads, scones, and muffins. In our cookies, we use 1/3 to 2/3's cup in most recipes.
Perfect size, little dices, with just the right amount of sugar to be pleasant but still deliver a tremendous taste.
Tender, slightly chewy, and never hard
Premium crystallized candied ginger
Each large bag contains about 2 cups of candied ginger
Satisfaction guaranteed
Recipes with candied ginger are just better than those with ground ginger. Take your baking to another level. Make your best cookies and cakes yet.
Ginger
I love the stuff. Can't find that quality anywhere else. I used to live in Idaho Falls and would attend your cooking classes plus buy a tone of your products. I don't cook like I used to but there are certain products that I can't do without. Your ginger and cinnamon chips are two favorites.
Delicious!
I thought perhaps this might be too strong for me, but it is so yummy. I love just snacking on it!