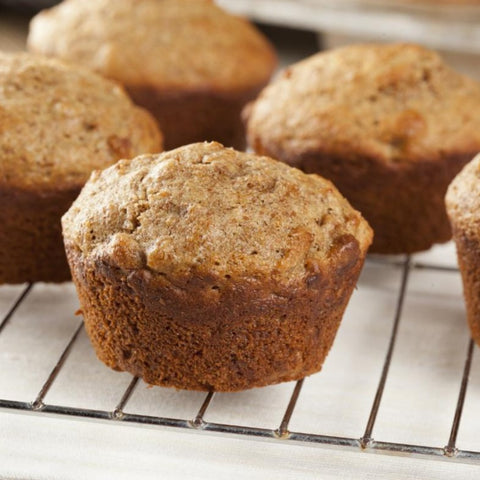 The Prepared Pantry
Mom's Best Honey Bran Muffin Mix (See 13 ways to make them)
For a special treat, add cinnamon chips to your muffins and biscuits.
You'll make wonderful, high-domed muffins with these mixes.
Add only water and mix. No butter or eggs are required.
These are big muffins, and without the cost of butter and eggs, they're economical.
Each mix makes twelve large muffins.
This mix is sweetened with honey.
These quotations may have come from the smaller package.
These muffins are really good. I'm glad, they're good for you. And they're easy. All you add is water.
"These are so good I wanted to eat the cup liner! I added some frozen blueberries and HOLY MUFFINS, these were so good. Moist with just the right amount of sweet to it. Thank you, Prepared Pantry!"  Kelly Chester
Most people love the ability to add fruit, nuts, and more to their muffins. You'll find 13 recipe ideas below. Look what others are baking:
"This is wonderful mix. I added craisins and pecans, they were delicious. The mix makes big tall muffins. I love it." 

 
"My best bran muffins ever... What a great mix . . .. These make up with all kinds of adders, apricots, or blueberries even zucchini. They freeze and reheat for a perfect breakfast with my coffee and yogurt...you don't HAVE to tell anyone it is such a simple mix....thanks Prepared Pantry." Cherie O'Donnell 

"These muffins are delicious and hearty. But as you can see in the other reviews, these muffins are a blank canvas to customize however you want. Add nuts, dried fruit, or enjoy them just the way they are!" 

Jennifer McHenry
"I grew up on my mother's bran muffins, made with "that breakfast cereal " that everyone used to make bran muffins back in the day. They were super good, but kind of a pain to make. This mix makes the BEST bran muffins I've ever eaten, better even than my old favorites. I keep this mix on hand all the time, and make the muffins a couple of times per month. They're fabulous!"  

LanaM
Tips and Suggestions from Our Customers
We love our customers. Thanks for your help!
"I prefer to make 6 jumbo-sized muffins instead of 12 smaller muffins, and they bake all the way through, unlike some other mixes."--Chris Earls

"Tons of raisins. I added chopped walnuts, and that will be my go-to breakfast."  Judy M 

"I decrease the water and add applesauce and cinnamon. My hubby's favorite."  

Amy Castelletti
"I make a batch and put them in my freezer for those mornings I'm running late." Sherry

I make these twice a week, sometimes with raisins, sometimes with dried cranberries. 

"Love this product. I add blueberries, raspberries, cinnamon, and mango."  

rick leavitt

"This is a wonderful mix. I added craisins and pecans, they were delicious."  

 

Frances Billings

 

"These make up with all kinds of adders, apricots, or blueberries, even zucchini."  

 

"Added walnuts and raisins - awesome! (I think shredded carrots would be a great ingredient to add and will try this variation too!),"  

KathleenCar

"I made the batter and filled the cups up halfway. Then I placed jam in the middle and topped it with the remaining batter."  

 


Thirteen ways to make muffins!

Personalize your muffins and make only the muffins you love. Start with very good muffins, muffins that are delicious, good for you, and rise up to tall domes. Add water and look what you can make!
1. To make Banana Muffins: Replace the water with 3 cups mashed bananas, 2 teaspoons banana flavor, and 1 1/2 Tablespoons water.
2. To make Banana Nut Muffins: Make as above and add 3/4 cup chopped walnuts.
3. To make Cranberry Nut Muffins: Add 3/4 cup dried cranberries plus 3/4 cup nuts.
4. To make Raisin Muffins: Add one cup of golden or dark raisins.
5. To make Date Nut Muffins: Add 3/4 cup dried date pieces plus 3/4 cup nuts.
6. To make Raisin Nut Muffins: Add one cup of raisins plus 3/4 cup nuts.
7. To make Cranberry Orange Muffins: Add 1 cup dried cranberries plus two tablespoons of fresh orange zest.
8. To make Cinnamon Chip Muffins: Add one cup of cinnamon chips plus one teaspoon of your best ground cinnamon.
9. To make Chocolate Chip Muffins: Add one cup of chocolate chips plus one teaspoon vanilla extract.
10. To make Pina Colada Muffins: Add 3/4 cup dry shredded coconut, 3/4 cup well-drained pineapple chunks, and one teaspoon butter rum flavor.
11. To make Ginger Pear Muffins: Add one cup of dried pears plus one teaspoon of ground ginger.
12. To make Caramel Pear Muffins: Add one cup of dried pears and two teaspoons of caramel flavor.
13. To make Candied Ginger Muffins: Add one cup of candied ginger pieces.
You get the idea. Add similar quantities of your favorite "add-ins," one cup of a single ingredient or 1 1/2 cup of a combination. For wet ingredients like grated apples, carrots, or zucchini, you'll have to experiment, but it will be something similar to the banana muffins above.
We have tried dried cranberries, walnuts, cinnamon chips, and candied ginger, one cup each time. The candied ginger was excellent, but it does give them some "pop." Next up is dried apricots. We have a wonderful apricot flavor. I'll add a teaspoon or two of that.
Dennis Weaver
Ingredients: Enriched Wheat Flour Bleached (Flour, Malted Barley Flour, Niacin, Reduced Iron, Thiamine Mononitrate, Riboflavin, Folic Acid), Sugar, Wheat Bran, Soybean Oil, Dry Honey, Wheat Starch, Soy Flour, Dry Whey, Leavening (Baking Soda), Honey, High Fructose Corn Syrup, Nonfat Milk Solids, Dry Egg Whites, Salt, Nonfat Dry Milk, Corn Syrup, Calcium Propionate, As preservative), Soy Lecithin, Calcium Stearate, Silicon Dioxide, Citric Acid. This product contains wheat, milk, eggs, soy and may contain traces of nuts.
Taste great and are good for my plumbing. I eat one for breakfast every morning. 😊
The BEST BRAN MUFFIN and so easy to make
I am a bran muffin fanatic. I moved a few years ago, and I could not find any bran muffins in my new area. I finally found a place about 12 miles from my house, but they were okay, but I have had better. I saw you had a bran muffin mix, they are excellent. I will buy them again.
Delicious bran muffins
These are some of the best bran muffins I have ever made and so easy to make. I am thoroughly enjoying them. They rose up so nicely and are delicious. I would highly recommend them.
Mom's Muffins
Delicious, but the shipping cost more than the muffins.
Mom's Classic Honey Bran Muffin Mix
This is wonderful mix. I added craisins and pecans, they were delicious. The mix makes big tall muffins. I love it.