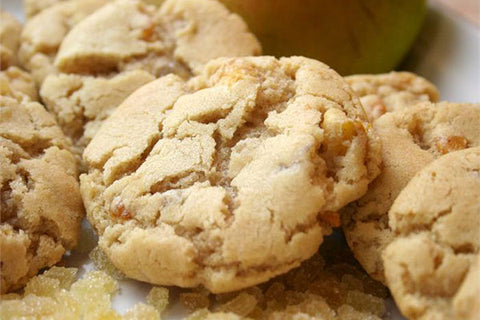 The Prepared Pantry
Candied Gingersnaps Cookie Mix
Large 22-ounce mix makes 30 nice-sized cookies
Loaded with tiny, soft ginger pieces
Much more flavor than cookies made with ground ginger
Naturally sweetened with brown sugar and molasses
Easy instructions and satisfaction is guaranteed
These cookies are fabulous. Welcome to your new favorite cookies. They're made with little candied ginger pieces--a burst of flavor in every bite. The ginger is not harsh, just flavorful.
You've never had a cookie like these. And they're spectacularly good.  You'll absolutely love them.
And they're easy to make--just like the cookies you've always baked.
Pro tip: Cookies are best if they are not over-baked. To tell if they are done, take the first cookie off the pan a minute or so early. Set it on a rack. Lift the rack with the cookie up so you can see the bottom of the cookie.  It should be golden-colored, not brown.
There are some experiences in life we ought not to miss. These cookies are one of those. They are absolutely wonderful.
"Loved these. The candied ginger really adds to the flavor." 
Sheila Stuart
"My Granddaughters love to make the mixes. Their favorite is the candied Gingersnaps." Peggy Morris
"Everything I have tried is two marks above excellent. All those that I have shared with have become customers."  Darryl Voss
Discover a whole new experience in cookies.
Candied ginger snaps
Love these cookies. They re sweet tasty and tangy . Just right.
The best!
My family's favorite mix. So delicious and it makes a huge batch.
I'm in the process of moving to Cedar Falls, Iowa, from Blue Springs, Mo. Cannot give you any reviews right now, I'm absolutely too bushed right now. Thanks.
Donna Hall
Candied Gingersnaps
This was my first purchase of this mix. I sifted out the ginger because I had grand kids coming. They said they were the best gingersnaps I had ever made. Shhhh, our little secret!