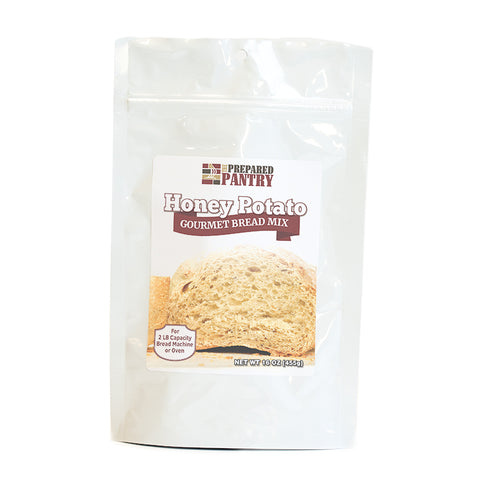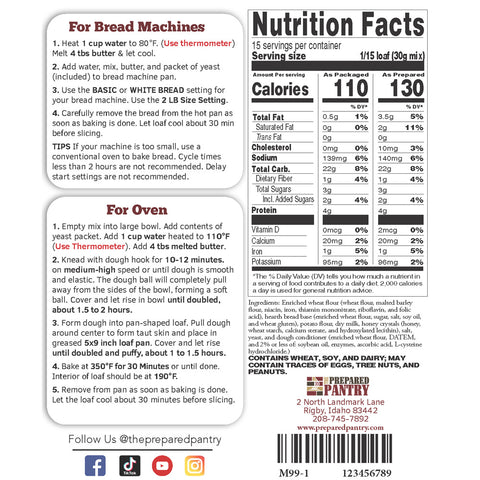 The Prepared Pantry
Honey Potato Bread Mix
Make this with your bread machine, stand-type mixer, or by hand.
Frequently Asked Questions
Made with a blend of enriched wheat flour, potato flour, honey, and milk

Just a hint of sweetness from the honey, a touch sweeter than other sandwich breads

A moist bread, both the honey and potato flour keeps the bread soft and moist

Works for both toast and sandwiches

Perfect for bread machines or conventional ovens,

Yeast pack included
From peach preserves to pulled pork, this a great bread for sandwiches and everyday use.  This is a new bread, and yet, it's already a favorite. Check the reviews.
"Makes the best French toast. This bread makes the best crème brûlée French toast ever,"--Erica Sellers
This is made with both honey and potato flour. Both are hygroscopic--that is they attract moisture and don't dry out. They'll keep the bread moist and soft for days.
The potato flour adds just a touch of sour, a hint of a background flavor that contrasts with the honey.
"Our new favorite! This honey potato bread is delicious. We made it in our breadmaker and used the "dark crust" setting, and the outside is crisp, and the inside is super soft and full of flavor. Still fresh and tasty three days later." 
Debra DeHaan
Try our Honey Potato Bread Mix! It's sure to become a new family favorite--or we'll give you your money back.
Have not made it yet
Have not made it yet, but did make SF Sourdough and it was good.
Light, fluffy loaf
Used machine to make dough. Put in bread pan to rise 1 hour. Brushed with egg wash and baked. While bread resting on rack, someone snuck in for a slice. Thumbs up.
Honey potato bread
My husband said it was one of his favorite out of all the ones we've made.
Sunday Dinner Roll Mix
My wife and I made the recipe for the first time. We were so amazed on how light and fluffy they turned out. This will be a must purchase when we order more from Prepared Pantry.