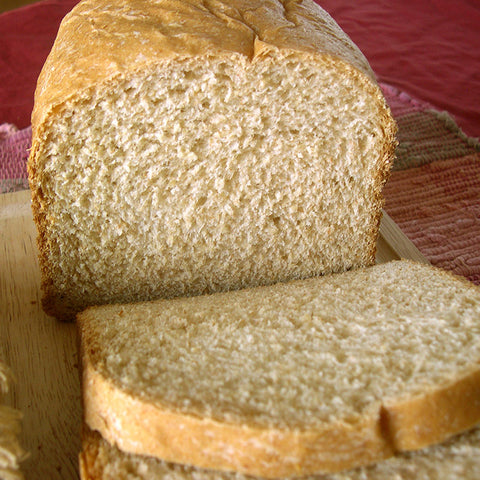 The Prepared Pantry
Farmhouse Honey Wheat Bread Mix
Make this with your bread machine, stand-type mixer, or by hand.
Frequently Asked Questions
This is an exceptional wheat bread. Often wheat bread is coarse and harsh. This is as soft and moist as homemade white bread.
This bread mix is made with the best and freshest stone-ground premium bread flour from Montana and sweetened with just a touch of honey. It's a moist and light bread, a fine bread in a full, generous loaf. It really is as soft and moist as homemade white bread.
"Tastes great. Love this bread! There is nothing like making your own fresh bread, it smells amazing and tastes wonderful 😃"  

 
"I really loved this bread mix....it's almost impossible to find a light wheat bread mix that really is light and not heavy and porous but this mix fits all my expectations!!"  

 
"Not too sweet. Has a healthy, hearty texture. Great to use for sandwiches. Hubby and I both enjoyed it."  

Sharyn Ueckert
"Wow! Prepared Pantry, these mixes are amazing! Everyone I've tried so far has been absolutely delicious. The knobby apple cinnamon, cheddar cheese, and the cinnamon raisin English muffin -unbelievable flavor! I can't give these a high enough rating, they are all delicious!"  

Chia Lucas
Even the kids will like this. Give it a try. If it's not the best wheat bread, we'll give you your money back.
Makes a 1 large loaf
Makes perfect bread in all popular 1 1/2 to 2-pound bread machines--or in your oven.
SAF gourmet yeast packet inside.
Directions and tips for perfect bread are included. You can make this bread in your bread machine, by hand, or with a stand-type mixer.
Simply delicious!
Wonderful bread to toast for breakfast. A touch of sweetness light and moist and very satisfying.
did not like the honey wheat love the buttermilk white bread
I like all the bread mixes but I ordered the Carmel popcorn and didn't like it at all.
Honey wheat bread
Any kind of wheat bread is good and these mixes turn out great if you follow directions.