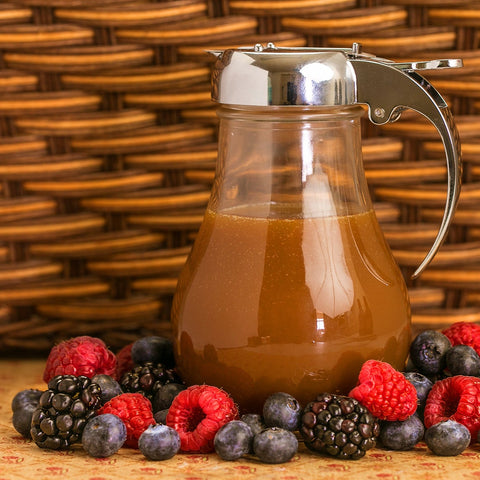 The Prepared Pantry
Wild Berry Buttermilk Syrup and Sauce Mix
Buttermilk syrup with a delicious wild berrytwist you're sure to love!
It's fantastic on pancakes or a dessert! It works on everything from angel food caketo ice cream to French toast.
Buttermilk syrup is made with a combination of buttermilk and baking soda. The buttermilk is an acid, and the baking soda is a base. When you add the water to make the syrup, you create a chemical reaction that creates lots of foamy bubbles. (As the syrup cools, you'll lose the bubbles.)The chemical reaction neutralizes the acid in the buttermilk, and the buttermilk loses its tang. Buttermilk without the tang and sweetened has a very caramelly, almost butterscotch flavor. It's rich and smooth and incredibly delicious. The key to a great buttermilk syrup is to have the right balance of acid to base in the ingredients. We tested the acidity in each batch to make sure we had it just right.
This mix makes about two cups of thick syrup. You add butter and water.
Shelf life: 24 months.

Refrigerate any unused syrup and use it within two months.
Ingredients: Sugar, dry buttermilk, corn syrup, baking soda, and natural and artificial flavors.
So decadent
This sauce takes pancakes to a new level. Perfect with the berry pancake mixes.
Wild Berry Syrup is simply W-I-L-D
I made a batch of the Wild Berry Syrup for the family to pour over our blueberry/raspberry pancakes...OMG, the entire jug was emptied by the end of the meal! So delicious! Needless to say, I had to order more for the making!
Everything from The Prepared Pantry is always AMAZING, FRESH & WONDERFUL!
Review
This is stuff is the bomb! Smells berry-liscious and tastes flavorful with just the right balance of fruit flavor. Served with the Mountain Berry pancakes. Scrumptious!
Review
OMG....this syrup is AMAAAZING!!!! If you want a syrup that will make you WANT to have pancakes any time of the day...this is it!!! It's my new favorite!