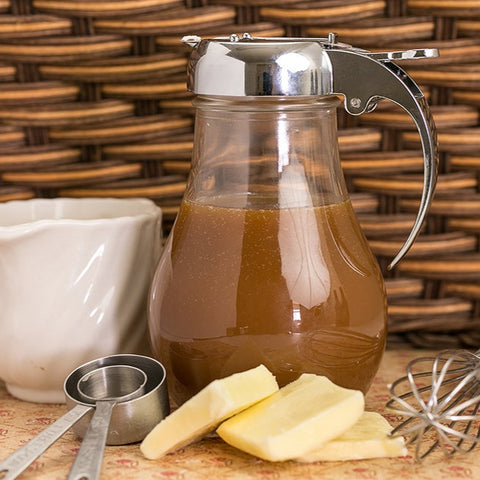 The Prepared Pantry
Old Fashioned Buttermilk Syrup Mix
Ah, a caramel syrup with a touch of butterscotch.
Easy to make. Add butter and water, stir, and cook until the syrup turns a golden caramel color. Perfect every time.
Makes two cups.
Store the leftovers in the refrigerator. Reheat in the microwave.
This is your family's new favorite syrup--better than maple. The taste is incredible, and you can use it in so many ways--not just pancakes! 
"WOW, this pancake syrup is good! It would be good on ice cream or apple crisp, as well as pancakes. And if the truth is known, I thought of eating the little leftover like soup. I can't believe how good this stuff is!!  

Melanie M.

 

"I love this syrup! You can use it on EVERYTHING. I use it to top my Aebelskivers and German pancakes. This is now a household staple at our house. Thank you, Prepared Pantry. No more boring maple in our house.)" Melissa D
This is your every weekend syrup. It will make you a hero. Read the reviews. Then stock up.
Bakers' tip: You don't need to time it. Just stir so that it doesn't scorch, and cook it until it turns a beautiful caramel color. That's your timer! It's like magic. It won't take long.
"Great for gifts." Meledie Knopf
"Not too sweet, just perfect." Carol Blaha
"It's a great flavor but not maple."  Lorena
"Everyone loved it."  Jolene Hurst
"My favorite syrup!"  Barbara Anderson
"Really good on many things." Sheila Stuart
"Was I in for a treat!" Diane Stowe
"A regular favorite." Sheila
"My new syrup!"  Suzanne Jackson
"You can use it on EVERYTHING!"  Mellisa D.
Give it a try. Breakfast will never be the same at your house.

Bakers' notes:
Buttermilk syrup is made with a combination of buttermilk and a base, usually baking soda. Buttermilk is an acid. When you add the water to make the syrup, you create a chemical reaction that creates lots of foamy bubbles. (As the syrup cools, you'll lose the bubbles.) The chemical reaction neutralizes the acid in the buttermilk, and the buttermilk loses its tang.
Buttermilk without the tang and sweetened has a very caramelly, butterscotch flavor. It's rich and smooth and incredibly delicious. The key to a great buttermilk syrup is to have exactly the right balance of acid to base in the ingredients. We tested the acidity in each batch to make sure we had it just right.
Ingredients: Sugar, dry buttermilk, corn syrup, baking soda, and natural and artificial flavors.
Love it!!
My family loves this syrup
Love it!
This is my go too topping for pancakes!
Dessert topping.
Had a loaf of a part loaf of cracked wheat bread ( also from Prepared Pantry) that I made earlier this week. I cubed up with a couple slices of texas toast and made bread pudding. Subbed pecans for raisins. Then made this for a syrup to go over. Wow it was tasty.
Powdery syrup
I did not use this. Didn't like the idea of a powder syrup.
Very tasty!
I had seen/heard about buttermilk syrup but had never tried making or eating it. This mix was easy to create and it tasted wonderful. We had breakfast for dinner - pancakes and bacon - the buttermilk syrup was the star.