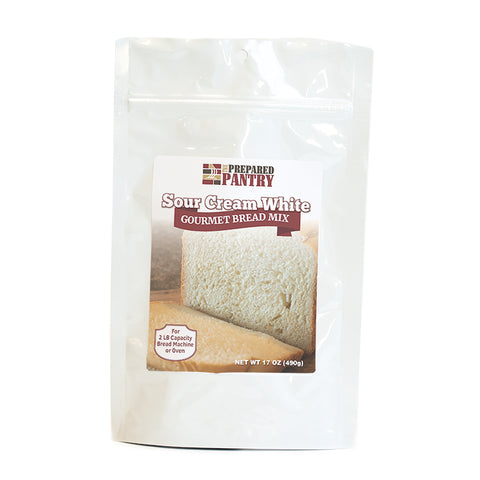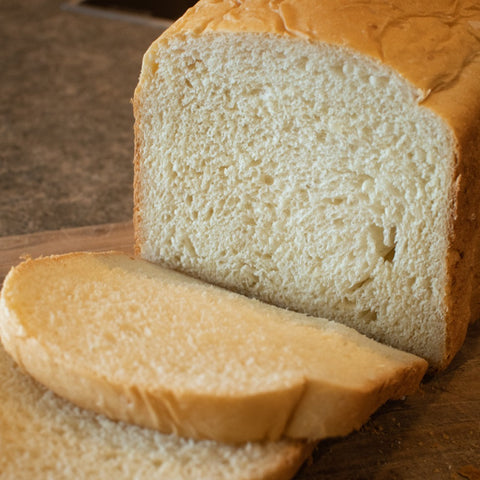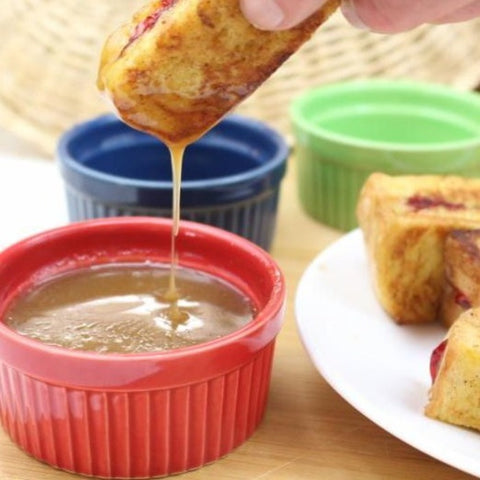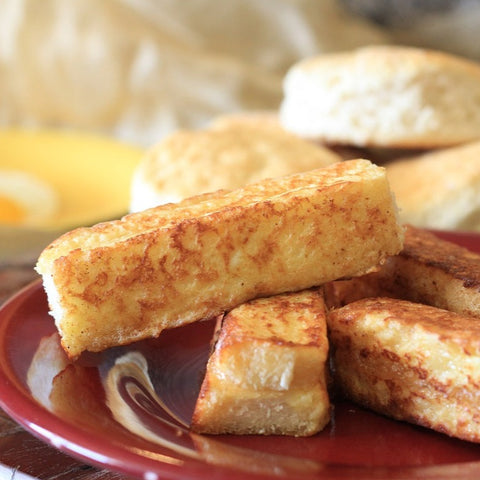 The Prepared Pantry
Sour Cream White Gourmet Bread Mix
Make this with your bread machine, stand-type mixer, or by hand.
Frequently Asked Questions
$3.99
$5.29
you save $1.30
Nice bread with lots of sour cream. The sour cream makes it slightly richer, a touch sweeter, and an ivory-white color.
Moist and soft with a polished crust
Over 1 1/2 pounds

We worked hard to make this fancy bread mix just right. We went through dozens of trials to get the perfect balance of ingredients. Only when our testers said it was perfect, were we satisfied. This is a formal bread for family and friends to make any occasion a special occasion


"I came across this website and purchased several mixes. Sour Cream white Gourmet Bread Machine mix was the first one I tried. IT IS AMAZING. We could not stop eating it. Moist, full of flavor, just perfect in every way. You can go wrong with this bread! Enjoy!"  Betty Giguere
 
"A very nice loaf of bread. A nice change from the country white we usually get." 
"
LOVE IT! LOVE IT!! Just Lovin' this bread! It's still my favorite Prepared Pantry Bread machine mix."  
Jen Offen
"This bread baked into a beautiful loaf. The crust was perfect. The bread was moist and delicious. Fine by itself or with honey butter!!! Absolutely no complaints!"  Lisa
 Make a wonderful, fancy bread. Add this to your cart.
How to Make French Toast Sticks in Three Easy Steps


1. Make a Sandwich
Choose your favorite bread mix and make it according to the instructions on the back of the bread mix package. We like to use sour cream white bread and our buttermilk white bread mix.
Choose your favorite fillings to spread in between slices. It can be as simple as PB&J or stuff them with a dessert filling.
2. Cut It and Dip
Cut the sandwich into sticks and dip it into an egg wash, just like you would with other French toast.
3. Cook The Sticks
Cook your prepared French toast sticks on a griddle, being sure to cook all four sides evenly. They're done when all sides are golden brown.
Pour the syrup into a small dish or ramekin, and dip your French toast sticks like French fries. 
Enjoy!
Love it
The bread is my new favorite. Taste and texture are perfect.
sour Cream White Gourmet Bread Mix
Fantastic bread. Glad I ordered several.
This is the best white bread we've ever tried. Can't get taste, texture, and crust like this in any store bought bread. Highly recommend this product. Give it a try, you won't be disappointed.
Awesome flavor
I love all the delicious breads 🍞. Delicious taste and flavor. Super fast shipping. I will definitely order again ☺️ Thank you