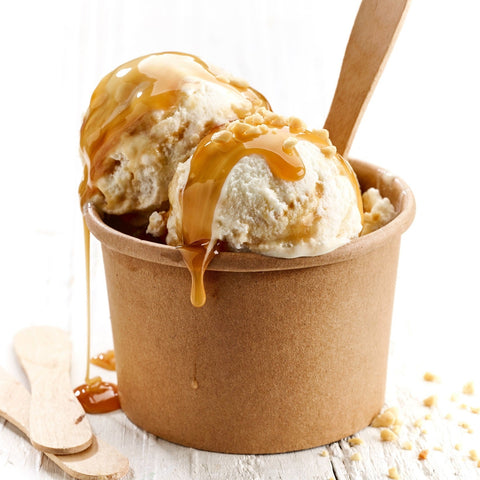 The Prepared Pantry
Coconut Buttermilk Syrup and Sauce Mix
This tastes like caramel and coconut combined!
It's like pouring a candy bar over your pancakes. It's fantastic on pancakes but you ought to try it on your dessert! It works on everything from apple pie to angel food cake to gingerbread to ice cream to French toast.
Buttermilk syrup is made with a combination of buttermilk and baking soda. The buttermilk is an acid and the baking soda is a base. When you add the water to make the syrup, you create a chemical reaction that creates lots of foamy bubbles. (As the syrup cools, you'll lose the bubbles.) The chemical reaction neutralizes the acid in the buttermilk and the buttermilk loses its tang. Buttermilk without the tang and sweetened has a very caramelly, almost butterscotch, flavor. It's rich and smooth and incredibly delicious. The key to a great buttermilk syrup is to have exactly the right balance of acid to base in the ingredients. We tested the acidity in each batch to make sure we had it just right.
If you like caramel and coconut, you'll love this syrup.
This mix makestwo cups of thick syrup. You add butter and water. Shelf life: 24 months. Refrigerate any unused syrup and use it within two months.
Ingredients: Sugar, dry buttermilk, corn syrup, baking soda, and natural and artificial flavors.
Lip smacking good!
This is so very tasty that I just want to eat in out of a spoon. These syrups cannot be beat.
Best flavor of the Buttermilk syrups by far
We love the taste of this syrup the best!
I love this syrup!! it's my favorite
Love this stuff. Would like a pancake syrup deal.
Coconut Buttermilk Syrup
Everyone in my family loves it. Intact two of my daughters asked for it for Christmas. My elderly mother won't put anything else on her pancakes or French toast.
Yum!
This is one of our favorite pancake/ice cream syrups to get at Prepared Pantry. The coconut comes through really well but doesn't overwhelm. I love how easy these mixes are to make.