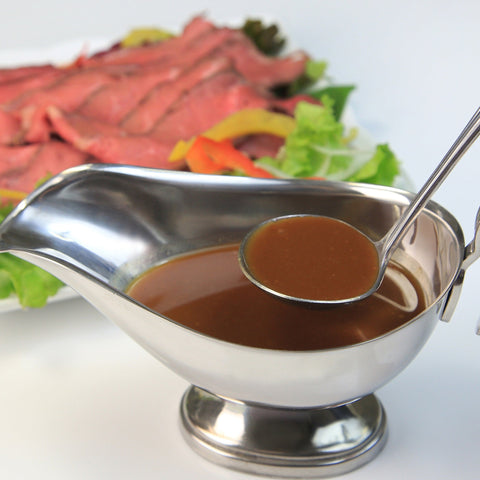 Monarch
Monarch Roasted Bulk Restaurant Beef Gravy Mix (Bulk)
Make restaurant-quality gravy in minutes!
This is how to make meals in a hurry! This is a perfect gravy for quick meals--even if you're not a gravy maker. When you need a quick meal, reach for this gravy.
Just add water!
Make what you need. Save the rest for later.
Fewer calories--only 20 per 1/4 cup serving.
This is really good gravy.It's the same gravy that fine restaurants use. If you like their gravy, get this mix.
It is very economical. Since it makes overfour quarts of gravy and you can make batches as large as you want, it will last you a long time.
This is very good for biscuits and gravy. It makes a very good base for soup--just thin your gravy with water or milk and add your vegetables or meats.
If you have this in your cupboard, you always have a quick meal on hand.
Add this to your cart for good, quick meals in a hurry.
Next Best Thing
Next best thing to your own beef gravy. I only needed one cup and it was just fine and even had a bit left over for the next day and it was just as good.
amazing!
I don't know why someone would say it waters down the next day. We made the smaller portion (as on the envelope) and we use it a couple days. Its very tasty-- not too salty as most mixes
😋delicious
Gravy is delicious and very easy to make. No lumps. Oid flavor and not too salty. Everyone I served this to has enjoyed it!
Watery
We tried on our restaurant, turns to straight water after 1 day