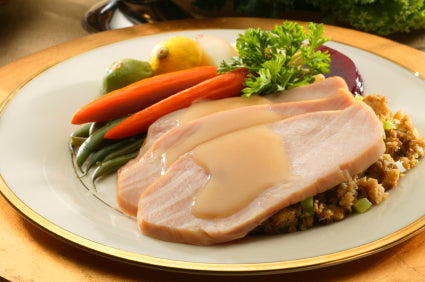 Monarch
Monarch Roasted Chicken Bulk Skillet Gravy Mix 21.6 oz
Make restaurant-quality gravy in minutes!
This is how to make meals in a hurry! This is a perfect gravy for quick meals--even if you're not a gravy maker. When you need a quick meal, reach for this gravy.
Just add water!
Make what you need. Save the rest for later.
Fewer calories--only 25 per 1/4 cup serving.
This is really good gravy. It's the same gravy that fine restaurants use. If you like their gravy, get this mix.
This is very good for biscuits and gravy. It makes a very good base for soup--just thin your gravy with water or milk and add your vegetables or meats.
If you have this in your cupboard, you always have quick meal on hand.
Add this to your cart for good, quick meals in a hurry.
Monarch Roasted Chicken Bulk Skillet Gravy Mix 21.6 oz
Another winner! When I'm preparing a feast for several guests I don't have time to fuss with making gravy from scratch. The mix is great prepared straight out of the package but a splash of wine makes it perfect. Better than what's available in the supermarket.
Thank goodness found product 👍🏼
Fabulous to have on hand, easy to mix and acts as a great base if you want to doctor recipe !!
Roasted Chicken Gravy Mix
This is the best gravy mix ever!!
Review
best instant gravey ever. Real chicken taste.