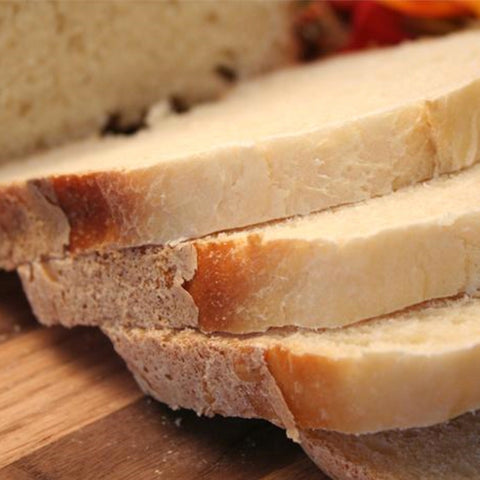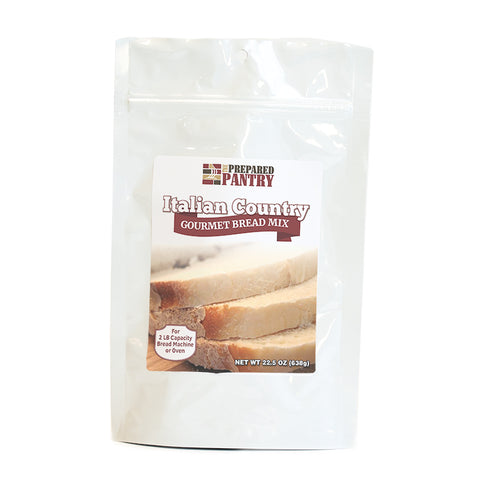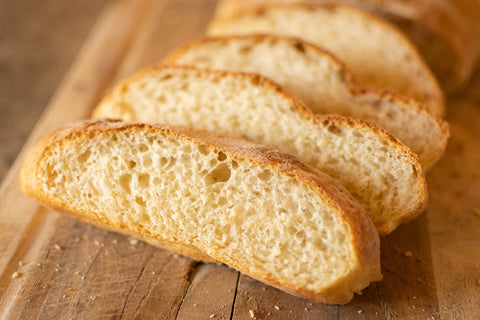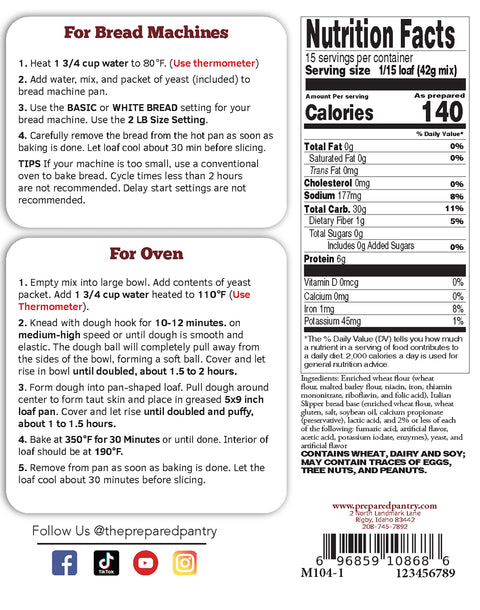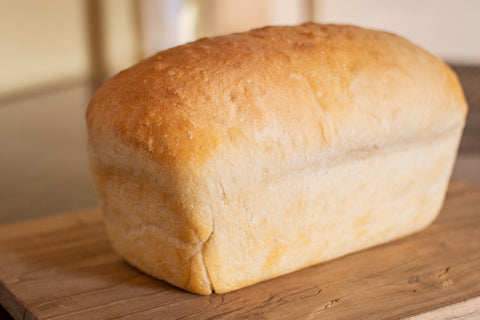 The Prepared Pantry
Italian Country Bread Mix
Make this with your bread machine, stand-type mixer, or by hand.
Frequently Asked Questions
Makes 1 large loaf - Makes perfect bread in 2-pound bread machines--or in the oven.
SAF yeast packet included!
Directions and tips for perfect bread are included. You can make this bread in your bread machine, by hand, or with a stand-type mixer.
This bread is so good it's scary! Maybe it's perfect!
"The Bread Has Risen!! There must be something special going on at Prepared Pantry by golly!! They are able to raise the dough and it tastes heavenly!! If that isn't some sort of

 I don't know what is. 

Almost scary right?"  

 
"My Perfect Bread! I've tried many of the Prepared Pantry's creations, but this bread has to be my favorite. It is moist with a crunchy outside and has the perfect chew. I can slice it thin and it doesn't fall apart. Plus, it takes like Heaven."  Linda Christensen
You can load it into your bread machine and push a button. You can set your bread machine to the "dough" setting and bake the bread in a pan or on a baking sheet. Or, you can use your stand-type mixer. Easy. Authentic.

"Well, let's just say you won't find a better basic bread anywhere. I no longer purchase bread at the supermarket, especially when I can easily have something so much better. Highly recommended!"  Lana Mountford

Italian Country Bread is a soft artisan bread with an authentic chewy crust. It's made with a pre-ferment that gives it just a touch of country sour, the same pre-ferment used in ciabatta bread. It's reminiscent of French bread but with a softer, moister texture. It makes a unique sandwich bread, perfect for toasting or dipping in olive oil.

"Absolutely delicious. My boyfriend doesn't want store-bought anymore. Sold! We love it."  

 
You'll love it too. Just try it.
Italian Mornings…
Italian Country Bread is hearty … toasted is delicious with a cappuccino to wash it down!
Soft
Very good, soft, dough ball was spot on. Cooked in bread machine, easy. Lasted 4 days and it was gone. Good sandwich bread. Would buy again.
All extremely good bread mixes!
Every one of the bread mixes are fantastic. My household asks for them. The Italian Country is a favorite.
Italian Country bread mix
Loved it so much we plan to order more. Great taste and texture.