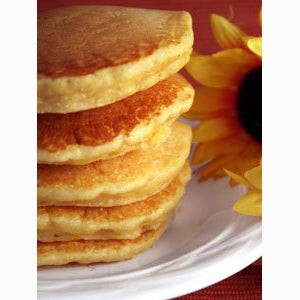 The Prepared Pantry
Texas Corn Cake Pancake Mix (Large 32 oz.)
These are the Johnny cakes of Rhode Island fame and popular in the South.
They are pancakes with ground corn. You cook them on the griddle. They are light and fluffy but with a little more substance, making them a healthy choice. If you like cornbread or pancakes, you'll love corn cakes.
These also make the best corn fritters we have ever tried. You can also make hush puppies, or batter for frying fish or veggies.
Ingredients: Enriched wheat flour (wheat flour, malted barley flour, niacin, iron, thiamin mononitrate, riboflavin, and folic acid), stone ground cornmeal, dry milk, brown sugar, baking powder, and salt. This mix contains wheat and dairy products and may contain traces of soy, eggs, peanuts, or tree nuts.
Yummy Corn Cake Ebelskivers!
A delicious mix we turned into corn cake ebelskivers. We made some of the ebelskivers stuffed with hot dog bites and cheese. It was a huge hit for everyone, especially the teenagers!!
Texas corn cakes
I thought they were very good.
Review
I LOVE these. They are so very good -- either savory or sweet.
Review
Really good.I grew up around Johnny Cake Hill,really. Haven't had this for a long time. And it's better than I can remember
Review
If I had a dollar for each person I've raved to about these Texas Corn Cakes I'd be rich! So good! I make them cookie size because my kids grab em off the plate (sometimes right off the griddle) and eat them like cookies. Fabulous with a berry syrup. Waiting for the 5 pound bag to come out ;)