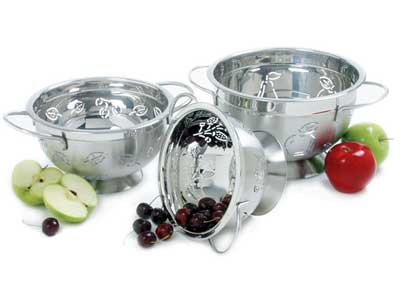 Norpro
Strawberry Heritage Kitchen Colander 1.5 quart
Get these beautiful stainless steel colanders with decorative cutouts.
The exterior is brushed stainless and the interior is mirror polished.
"We have these at home.They're beautiful and are great for centerpieces"--Dennis.
You'll find plenty of uses for these beautiful colanders from rinsing produce to draining pasta. And they are so attractive that you'll want to display them in your kitchen or dining room, maybe as a fruit bowl or to display treats.
Precision cut fruit outlines on brushed stainless make these artistically beautiful yet functional.
Solid, heavy 18/10 stainless steel with polished interiors.
Brushed stainless exteriors.
Additional holes in the wide bottoms lets the water drain quickly.
Rolled edges make for easy pouring.
The solid steel looped handles make for easy handling.
This strawberry colander has a capacity of 1 1/2 quarts.
You deserve this wonderful colander.Get it today
at a great price.
Fall in love with these beautiful stainless steel colanders!
Add this to your cart.