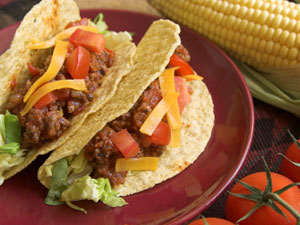 The Prepared Pantry
South of the Border Mexican and Taco Seasoning 2.4 oz
It you cook Mexican, try this spice.
This is a great Mexican spice blend at a great price. Many blends are full of salt which is much cheaper than spices. This one isn't. So you get more flavor and less salt.
Your seasoning will come in a clear bottle with a shaker lid.
Ingredients: A proprietary blend of fine Mexican herbs and spices. This product is packaged with equipment that is used in the production of baking mixes and may contain traces of soy, dairy, wheat, tree nuts, peanuts, or eggs.
Best Taco Seasoning on Earth
This is the only Mexican taco seasoning I buy. It's not too spicy for my picky family and has **way** less salt than other blends. There's so little salt I often add a bit extra. You can salt your tacos to taste, rather than be forced to eat too much salt.
South of the Border Mexican and Taco Seasoning 2.4 oz
South of the Border - Excellent Choice!
We had a delicious lunch today featuring South of the Border Mexican and Taco seasoning. I used the seasoning in our tostado bowls and was very pleased with it. It was just right amount of spice without being to spicy. Thanks for a great product!
Review
The smell and taste is amazing. The tacos were all gone. I definitely recommend!
Love This Product
I use this seasoning mix in all my Mexican cooking. Great flavor without being too spicy.