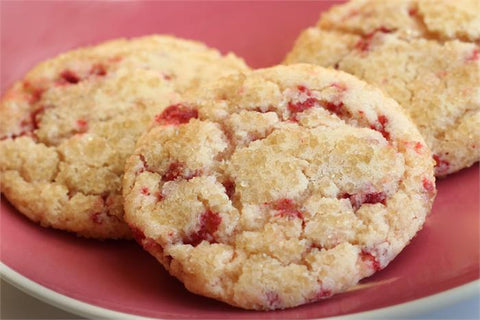 The Prepared Pantry
Raspberry Cheesecake Cookie Mix
Delightful cookies! These are cookies you want to present to the company, raspberry flavored cookies in a cream cheese base. The raspberry baking bits create a crimson splash of color for beautiful cookies. Give these a try!
Awesome cookies
First purchase from Prepared Pantry and got the best compliment about these cookies. A lady who claims to be the best cook, canner, and baker and nobody makes anything better than her said they were some of the best cookies she'd had. Made me feel good. Thanks Prepared Pantry.
So good!😍
I originally was just going to buy some Raspberry sour cream pancakes for my sister, but I saw these cookies and immediately new I needed to try them! Let me tell you, they are SO GOOD! I got so many compliments from my friends when I shared these cookies with them. 10/10 recamend trying.
Raspberry cheesecake cookies…YUMMY
These cookies are absolutely delicious! As soon as the family knew I had them, they were gone! I'll have to make twice as many next time. And so simple!
Easy and Delicious!
I made these over the weekend, and OMG they are Amaazing!!! I got almost 3 dozen out of this mix, but I'm sure they won't last long. Very simple to make ~ you only add butter/shortening and 2 eggs, mix together...roll into balls & dip in sugar...then bake. If I had 1 suggestion, it would be to have everything in separate packs inside the main package... and labeled step 1, step 2, step 3.
As it was there was a pack for step 1, and a "step 3 pack" of sugar to roll the dough balls in, but the mix for step 2 was loose inside the main package and a bit messy as it stuck to the outside of the two packs.
Raspberry Cheesecake Cookie Mix
This was a very delicious cookie mix. Everyone enjoyed them!! Prepared Pantry is a very good place to order from. Plan to try other mixes from them. Very fast shipment was great!!