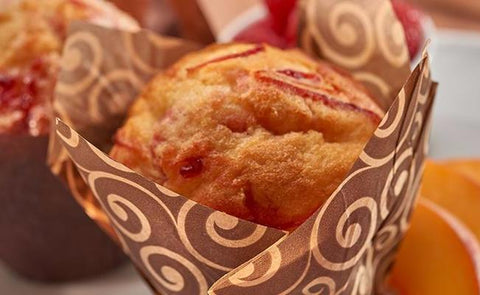 Dawn Foods
Professional Peach Pastry Filling
You'll love this luscious peach pastry filling!
Great professional pastry filling to fill pastries, donuts, and crepes.
Wonderful filling for layered cakes.
Use it as a dessert topping.
Large 2-pound size fills many donuts or pastries, nearly twice the size of most canned fillings.
This pastry filling is more intense with more flavor than pie fillings. It balances better with pastries or donuts. It is perfect for turnovers.
The unique packaging is made for bakers. Snip the corner and add a decorating tip for filling donuts or cupcakes or just squeeze a squiggle where needed. Roll up the end and store the remainder in the refrigerator.
These are made for professional bakers and are much better than those found in stores. Use this professional dessert filling for pastries, donuts, and crepes.
Peach Pie Filling
I use this to fill the centers of cupcakes and between cake layers. There is ample filling and so easy to use. Just snip the end to use. If you don't use it all, just close it up and refrigerate the rest. Personally, I like to transfer any leftover product into a container with a lid. If you're hesitating about buying this product, DON'T! You won't be disappointed with this purchase. It only took two days to receive my order and that's even much quicker than when I mail a card that's only going 500 miles.