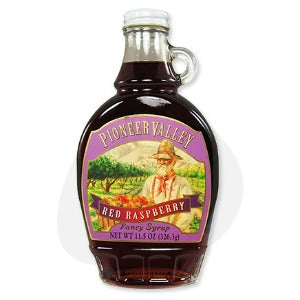 Pioneer Valley
Pioneer Valley Gourmet Red Raspberry Syrup
This red raspberry syrup is the perfect addition to your morning pancakes or waffles.
What makes this red raspberry syrup so good? We think that it's the careful, handcrafted care that a family-owned company puts into its products. But it's the fruit too. This thick syrup is made with red, ripe raspberry juice sweetened with cane sugar. There are no preservatives, no artificial flavors, and no thickeners. You'll feel good about this syrup.
Try all of our Pioneer Valley gourmet syrups. Each attractive glass jar contains 11.5 ounces of premium syrup.
You'll love the thick and rich taste of bright, red raspberries.
Review
Best fruit syrups we have found. Prompt service and packaged well.
Review
Too good to put words to..Haven't had a non 5 star yet