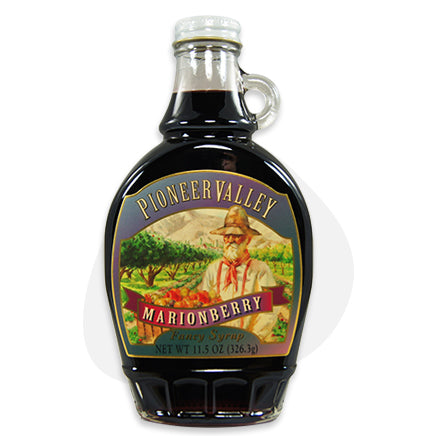 Pioneer Valley
Pioneer Valley Gourmet Marionberry Syrup
Made from pure fresh frozen marionberries from the Pacific Northwest.

Thick, rich, and flavorful syrup that's the perfect addition to your morning's pancakes or waffles

Made by a small family-owned company that knows fruit--they own orchards
No artificial colors or flavors

No corn syrup, which masks the flavor of fresh fruit
11.5 ounces in attractive glass bottles with foil labels--make great gifts.
Pioneer Valley makes great syrup, and this is better than what you get in the grocery stores. Pioneer Valley buys fresh-frozen berries and then extracts the juice from the berries and cooks down the juice to concentrate it. And there is no corn syrup to mask the real berry flavor.
No wonder this is a better syrup.
Marionberries are related to boysenberries but are brighter and sweeter. They are grown only in the cool, wet climate of Washington and Oregon. Ask the folks in Portland. They'll tell you that marionberries are better than boysenberries.
Give it a try. We'll give you your money back if you don't like it better than grocery store syrup.
"This syrup is so full flavored and just sweet enough! A delicious addition to breakfasts or desserts!"  Marie Ziaja
I have not yet opened this and will not until my powers is back on. Later
Pioneer Valley Gourmet Marionberry Syrup
I often buy their syrups when ever I catch them on sale. Their jams and jellies are just as tasty. Wonderful flavors.
Delicious
This syrup is so full flavored and just sweet enough! Delicious addition to breakfasts or deserts!
Pioneer Valley Gourmet Marionberry Syrup
QUALITY IS IN THIS PRODUCT..
I WAS GOING TO ASK PREPARED PANTRY IF I CAN GET THIS IN 55 GALLON BARRELS.....IT IS SO GOOD...