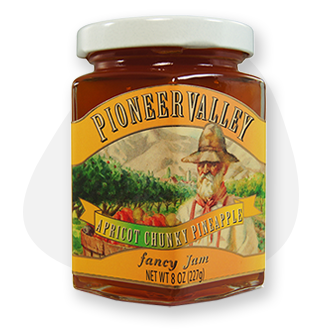 Pioneer Valley
Pioneer Valley Gourmet Apricot Pineapple Jam
You'll love this carefully crafted gourmet jam.
It's made in small batches with sweetened, fresh fruit, with no fillers, corn syrup, or preservatives for an intense fruit flavor. We consider this gourmet jam a real find and think you will agree that it's better than anything in your local store. You'll find it thick, rich, and flavorful and the perfect addition to your bread and muffins.
What makes it so good? We think that it's the careful, handcrafted care that a family-owned company puts into its products. But it's the fruit too. This jam is made with simple fruit sweetened with cane sugar. You'll feel good about this jam.
Try all of these Pioneer gourmet jams. Each attractive hex glass jar contains eight ounces of premium jam. The richness and vibrancy of apricots with the sweetness of fresh pineapple makes this an extra special jam. You'll love this carefully crafted jam, a perfect mixture of smooth, ripe apricots and pineapple made to a precisely spreadable consistency.
What my Mom made growing up... Apricot Pineapple - YUM!
Apricot Pineapple, yum! My mother would make this for me from the apricot trees in the backyard. It is amazing that a taste and smell can brick back those memories of my mom's jam making and canning.
She has long passed and so has my hoarded supply of her jams. I am happy to be able to pick these up.
Review
I grew up in the midwest at a time when apricot pineapple preserves were a common item available in the local supermarket. I was ALWAYS my favorite flavor. As time went on and a lot of things changed, apricot pineapple disappeared -- I could get apricot, but it was a poor stand-in for for the wonderful combination of apricot and pineapple.When I saw this available on Prepared Pantry, I had to give it a try. Would it taste the same or even similar? I ordered a jar to try it. And there it was: the flavors from my childhood! It's perfectly tart and sweet without being OVERLY sweet. I use it primarily on English muffins for breakfast, but I've also used it to make a glaze for chicken combined with some white balsamic vinegar and finely chopped Serrano pepper.I've already placed and received an order for 4 more jars of this. It's really that good.