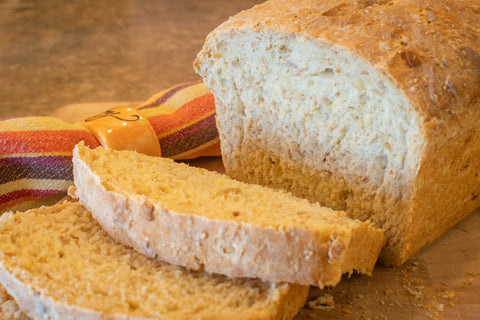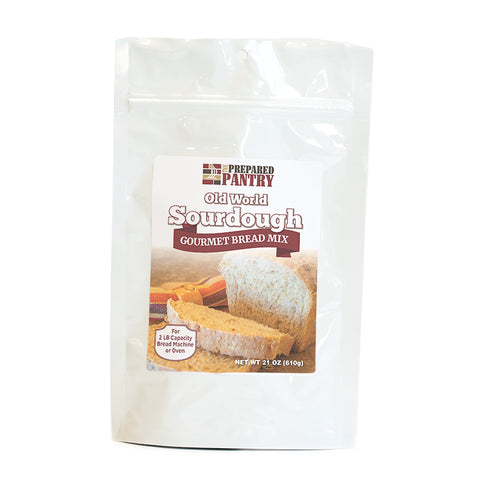 The Prepared Pantry
Old World Sourdough Bread Mix
Make this with your bread machine, stand-type mixer, or by hand.
Frequently Asked Questions
This is our best sourdough bread made with wholesome grains: rolled oats, rye, barley, and wheat.
European sourdough is a little different flavor than San Francisco sourdough--a very nice flavorthat's deep and complex.
If you like sourdough bread, this is a wonderful choice. It's a milder sourdough with a chewy crust, a wonderful split-top bread. The secret is the four wholesome rolled grains (wheat, oats, rye, and barley) plus a generous helping of sunflower seeds. Because the grains are rolled, not chopped, they blend into the bread for a smooth, soft texture. (Your kids or grandkids won't know that all those good grains are in there.) But you'll get a wonderful sourdough bread that is restaurant quality and very good for you.
This is a healthy choice with four whole grains and sunflower seeds. There are no preservatives.
A great bread for toast and sandwiches.
A soft, moist bread that your family will love.
Each package contains one bread mix that makes a two-pound loaf.
Use a thermometer to check water temperature and we guarantee your bread will work.
Don't miss this great bread.
Old World Sourdough Bread Mix
Sourdough bread
Very good also the honey wheat
Sourdough with substance
This is one of our favorites. Excellent sourdough flavor with great texture and substance.
Bread
Love your bread mix for bread machines…. My favorite is Lumberjack bread…. Soooo delicious…. Will order more soon
Excellent
Delicious and versatile for meals and sandwiches