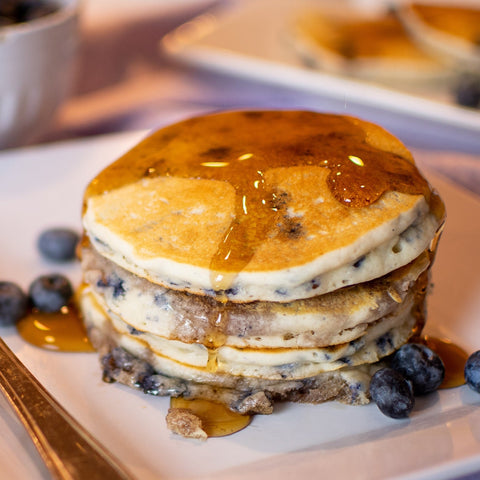 The Prepared Pantry
Huckleberry Pancake Mix (24 oz.)
Light and tender pancakes loaded with huckleberry bits
Tart--like blueberries on adrenaline
Just add water
Makes up to 24 pancakes
Perfect for waffles
Wild huckleberries are small, tart, and full of flavor--a cousin to a blueberry. If you like blueberry pancakes, love these--like blueberry pancakes with zing.
In the Northern Rockies, people go crazy over huckleberries--I mean $50 a bucket crazy.  When they're ripe, people fill the hills looking for berries.
Discover these huckleberry pancakes and see what you've been missing.

"As an old Montana Huckleberry Hound, your Huckleberry Pancake Mix is truly a welcome and tasty addition to our breakfast menu." 

 
 Huckleberries are a cousin to blueberries. They're wild, and they taste wild, tarter like a wild blueberry.
So if you like blueberries and you like a lot of flavor, try these huckleberry pancakes. They're made with fruit bits, like our blueberry bits, but with huckleberry flavor added.
You need to check this one off your list.
Discover the taste of huckleberries in your own kitchen . . . and for not a lot of money.
It was very good. There was too many berries though I mix half and half with plain it worked well.
Huckleberry Pancake Mix (24 oz.)
Too tart!
Tried the huckleberry pancake mix and found it to be way too tart! Not my favorite!
Best ever
The pancakes were fantastic so far all the products have been very good
The best
These are the best pancakes ever! Highly recommend