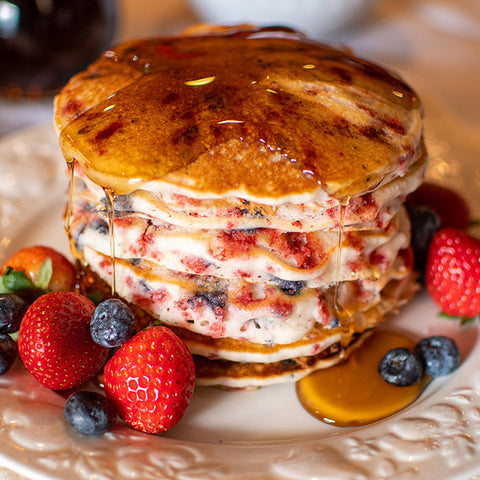 The Prepared Pantry
Mountain Berry Pancake Mix (32 oz.)
Just how good are these pancakes?
These are special pancakes with a mixture of raspberry and blueberry bits and flavors. Their tart mountain berry flavors in a light, airy pancake are to die for.
A bit sweet for my taste.
Very flavorful, light, and fluffy but a too sweet for my taste in pancakes. Tasted more like a muffin to me.
Gourmet Plus!
I ordered several of the Pancake mixes to try. While all are absolutely delicious, this is my first reorder...my family loves this one the best!!!
Mountain Berry Pancake Mix (32 oz.)
Mountain Berry Pancake Mix 32 ounce size
Love all the pancake mix flavors I've tried. Mountain Berry and Raspberry sour cream are two of my favorites. And I like to mix chocolate chips with them as well.
Partnered with their fantastic flavored syrups you can't go wrong.
Wonderful breakfast, great at dinner, too!
Mountain Berry pancakes are a special breakfast in my home. I share them with my next door neighbor, she loves them, too! I am always pleased with my purchases at The Prepared Pantry, and I have even given some of the mixes to friends as presents. They are just that good!