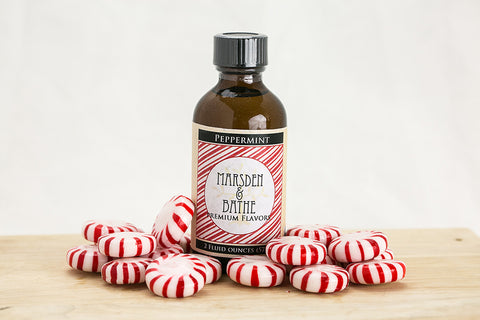 The Prepared Pantry
Marsden & Bathe Peppermint Flavor 2 oz
Use this peppermint flavor in everything from cakes to shakes.
It makes great candy and frosting. Its distinctive tone adds sparkle to cookies, cakes, and desserts.
Add this classy, cool, peppermint flavor to your pantry! We're sure you'll love it.
Commercial strength natural and artificial flavor--more concentrated therefore more economical that "store" flavors.
Produced by a US company with over 100 years experience in flavors.
Comes in a dark glass bottle to protect the delicate flavors from light.
Marsden and Bathe flavors are generally used in bakeries and fine restaurants by pastry chefs and are not generally available to consumers. See if they are not better than grocery store flavors.
Peppermint flavoring
Deeeeelicious! Strong flavor but bot too strong!