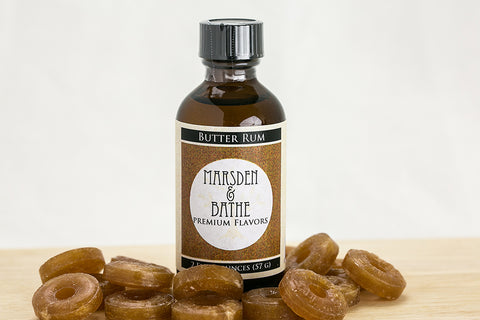 The Prepared Pantry
Marsden & Bathe Butter Rum Flavor 2 oz
Butter rum flavor is called for in many recipes.
Add this rich butter rum flavor to your pantry. Enjoy the great flavor.
It is a favorite in cakes and desserts. We use this often in our favorite dessert sauce.
Commercial strength natural and artificial flavor--more concentrated therefore more economical that "store" flavors.
Produced by a US company with over 100 years experience in flavors.
Comes in a dark glass bottle to protect the delicate flavors from light.
Review
I have bought from the Prepared Pantry several times and have never been disappointed. Their products are shipped quickly and with care, so everything arrives in perfect condition. The breads are so easy to bake, and taste great. The pans are top quality, and their flavorings are fantastic. I always recommend the Prepared Pantry to my friends. A+++
Review
Bought much of this. Divine and many uses. wow!