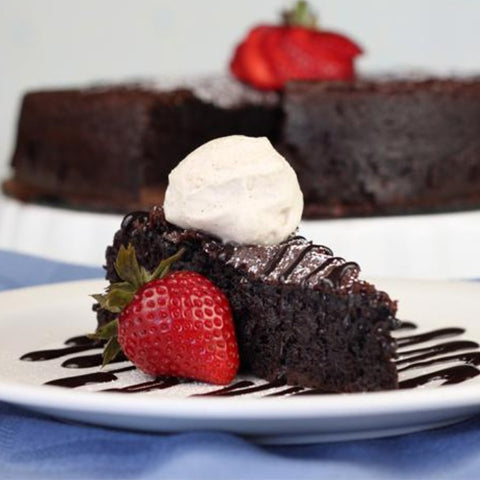 The Prepared Pantry
Legendary Flourless Chocolate Cake Mix
This is like visiting a fine New York restaurant. You won't find a better flourless chocolate cake anywhere.

"It's elegant, superb, . . . and easy."  FR

"It turned out moist, dense, and rich. It was easy to make and turned out beautiful"  Victoia Deseret

"This is so moist and good. Excellent with a drizzle of raspberry sauce over warmed cake."  Mary Koselke
If your friends are coming and you've got you have to have a dessert that impresses, this is it.
Is this really flourless? It is made without flour. However, because we process other mixes with flour, trace amounts of flour are possible but not likely in this mix. If you are highly allergic to flour, we recommend that you not buy this mix.
Your family and friends will love this! They will be impressed. We guarantee it or your money back.

Make a flourless chocolate cake just like a fine New York City restaurant.
Ingredients: Granulated sugar, chocolate (sugar, chocolate liqueur, cocoa butter, butter oil, soy lecithin, and vanilla), cocoa, corn starch, natural and artificial flavor, salt, and baking powder. This product may contain traces of dairy, wheat, egg, nut and soy products.
Great dessert!
This is a great cake that uses six eggs and no flour. It doesn't jack my diabetic husband's blood sugar like regular cake. We put some fresh berries on it and it's delicious!
Flourless cake
Wonderful. When asked for recipe I say it's an old family recipe and then send them a package of it for Christmas
ELEGANT—SUPERB!!
I have baked this in a medium sized Bundt. Each time I have served friends this cake has received rave 💯% reviews!! Delicious and easy to prep!!!!
GOOD
Gluten free very good. Thank you