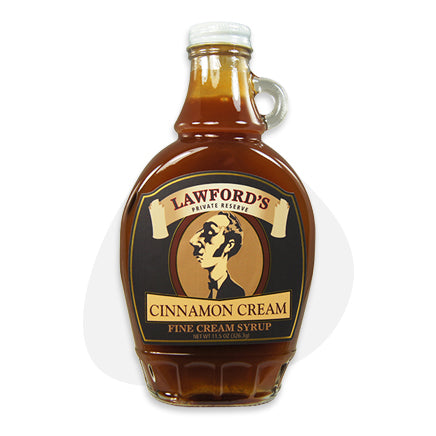 Pioneer Valley
Lawford's Private Reserve Gourmet Cinnamon Cream Syrup
This is the easy way to turn ordinary pancakes or desserts into extraordinary!
This delicious syrup has a thousand uses. It's like a caramel sauce with a very good cinnamon added.
We serve cream syrups in several of our cooking classes. Most people buy them after trying them. This is not too rich for pancakes and waffles but is extraordinary as a dessert syrup. Drizzle it over cake or ice cream. It's wonderful over a slice of apple pie ala mode.
It has a thousand uses:
Pour it over your pancakes or waffles.
Slather some over your ice cream sundaes.
Make an incredible fruit salad.
Dab a little on your hot morning cereal.
Glaze a muffin or coffee cake.
Poke holes in a quick bread, pour syrup over the loaf and let the syrup seep through the bread.
Pour it over a sweet roll or pastry.
Make a milkshake or smoothie.
Drizzle it over crepes.
Pour some over strawberries.
Make a fondue--chocolate and gourmet syrup mixed.
Do not pass up this extraordinary cream syrup.
Each attractive glass jar contains 11.5 ounces of thick gourmet syrup.
Ingredients: corn syrup, sugar, cream, brown sugar, evaporated milk, carrageenan, propylene gylol alginate, modified food starch, xanthan gum, guar gum, cinnamon, soy lecithin. Processed in a facility that uses nuts. Keep refrigerated after opening.
Delicious will buy again definitely
QUALITY NOT AS GOOD
This seems to be much thinner, not nearly as good as it used to be. Do not think I will purchase again.
Review
Great on banana pancakes!
Review
THIS IS VERY GOOD SYRUP. I USE IT ON FRENCH TOAST STICKS AND PANCAKES FOR A CHANGE UP FROM MAPLE. HIGHLY RECOMMEND!