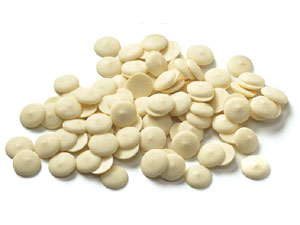 The Prepared Pantry
Guittard White Wafers 18 oz
Easy to work with. Just melt and dip.
These vanilla wafers from Guittard are the best in their class. When it calls for white chocolate, these work great and for much, much less than pure white chocolate.
Easy to work with. Just melt and dip. Use it for baking or candies. It will work in any recipe calling for melted chocolate--cream pies, cookies, cakes, and more. No tempering required.
Did you know that there are special food colors for candy makers? Regular food colors are alcohol (glycol) based which means they dont mix well with chocolate or fat-based coatings. Food colors for candy makers are fat based.
Melts easily and stays fluid longer (Melt it right on your stove top.)
Makes beautiful chocolates and candies
Made by a candy company--and taste like it
Resealable, zipper-type closure to ensure freshness
Smooth! Delicious! Could they be made with less sugar? REAL sugar, of course!