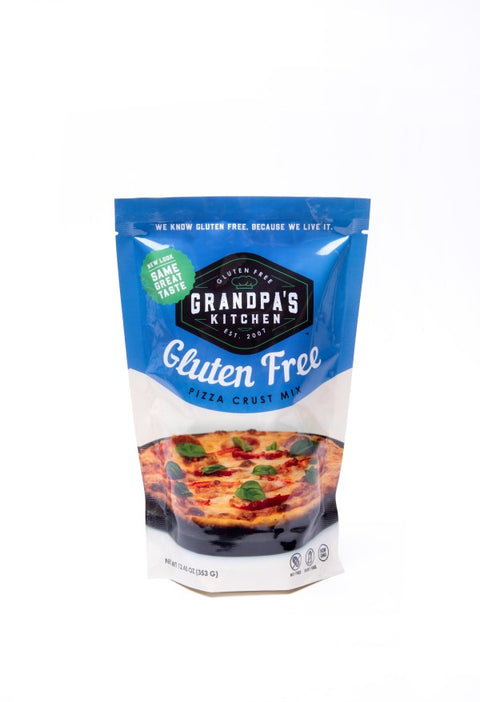 Grandpa's Kitchen
Grandpa's Kitchen Gluten Free Pizza Mix 12.45 oz.
Regular food--gluten free!
This is the very best gluten free pizza mix we have found. It tastes like regular food!
Have you been missing a Friday night pizza? With our pizza blend you can once again enjoy them! When it comes to our pizza crust, you won't even know it is gluten free, try it today!
Pizza (Makes 2 - 12" Crusts)
Combine dry ingredients:
1 yeast packet
1 tsp Italian seasoning*
1 tsp garlic powder/pepper*
1 package of mix
1 tsp onion powder*
*Optional Ingredients
Wet Ingredients:
1/4 cup vegetable oil
2 eggs
3/4 cup buttermilk or 1/2 cup milk
Pre-heat oven to 500 degrees. Mix liquid ingredients together in a mixing bowl. Add dry ingredients. Mix together on low speed until dough forms a ball and pulls away from the sides of the mixing bowl. If dough is too thick to roll out easily add 1 Tbsp milk. Turn dough out on greased pan. Roll out dough. Let rise 10 minutes. Cover with toppings. Bake 8 or 9 minutes. Note: Brushing the edges of crust with 2 Tbsp melted margarine before baking will keep the crust edge soft.
Ingredients: Potato Starch, Corn Starch, White Rice Flour, Baking Powder (Sodium Acid Pyrophosate, Sodium Bicarbonate, Corn Starch and Monocalcium Phosphate), Xanthan Gum, Tapioca Flour, Brown Rice, Baking Soda, Sorghum Flour.
This product is NON GMO.