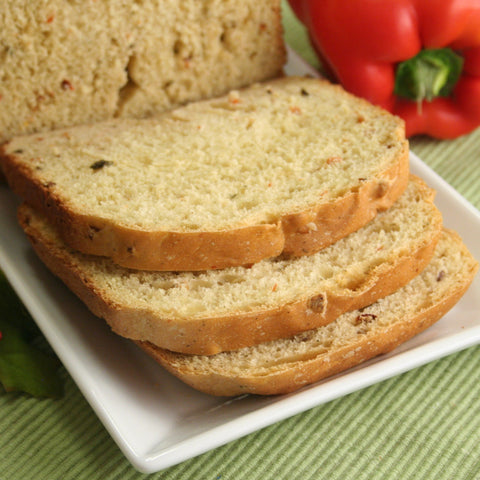 The Prepared Pantry
Garden Harvest Vegetable Gourmet Bread Mix
Make this with your bread machine, stand-type mixer, or by hand.
Frequently Asked Questions
Makes a perfect crunchy toast or chewy bread for soup or sandwiches
Makes perfect bread in all popular 1 1/2 to 2-pound bread machines--or in your oven.
SAF gourmet yeast packet inside.
Directions and tips for perfect bread are included. You can make this bread in your bread machine, by hand, or with a stand-type mixer.
This bread mix makes a moist, soft bread full of garden vegetables!
If you like the snack crackers in the grocery store, you'll love this bread. The veggie flavor is very similar but it's better in a bread. Seasoned and filled with fresh vegetable flavor, you can't go wrong with this bread!
"The garden harvest vegetable bread has an excellent flavor without overpowering and the texture is great for sandwiches or a toast snack." -Linda Phillips
This bread mix makes a moist, soft bread full of garden vegetables!
Tasty!
There is a lot of deliciousness to this bread, but it's not overpowering when using in a sandwich. It's moist and holds together well. Those that were gifted loaves in their baskets loved it. It's also been requested that I bring it to work pot lucks. Nothing is left!
I have been making your breads for a few years , and very pleased ! We all love the garden harvest and sourdough !
This interested me so I bought it for the holidays. I haven't made it yet, but I am sure that it will be a hit. Just think of turkey sandwiches on this!!!!
It was ok
The bread did not rise good and was bland.
Garden Harvest Vegetable
This is definitely one of my very favorite breads.