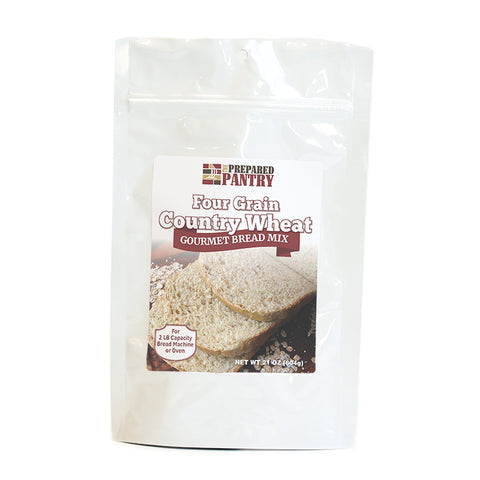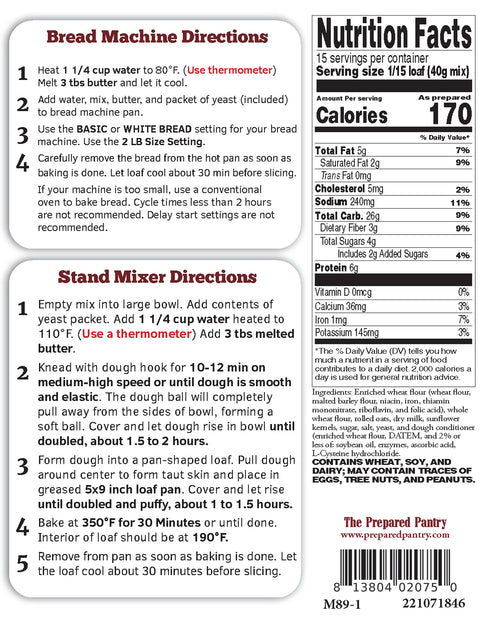 The Prepared Pantry
Four Grain Country Wheat Bread Mix
Make this with your bread machine, stand-type mixer, or by hand.
Frequently Asked Questions
If you like whole-wheat bread, you'll love this choice.
It's made with whole wheat flour and four wholesome rolled grains (wheat, oats, rye, and barley) plus a generous helping of sunflower seeds.
Because the grains are rolled, not chopped, they blend into the bread for a smooth, soft texture. (Your kids or grandkids won't know that all those good grains are in there.) But you'll get a wonderful soft bread that is moist and chewy and very good for you.
Makes a perfect crunchy toast or chewy bread for soup or sandwiches
Makes perfect bread in all popular 1 1/2 to 2-pound bread machines--or in your oven.
SAF gourmet yeast packet inside.
Directions and tips for perfect bread are included. You can make this bread in your bread machine, by hand, or with a stand-type mixer.
Four Grain Country Wheat Bread Mix
best yet
flavor and texture is the best choice yet
Great Bread
Good moisture and texture