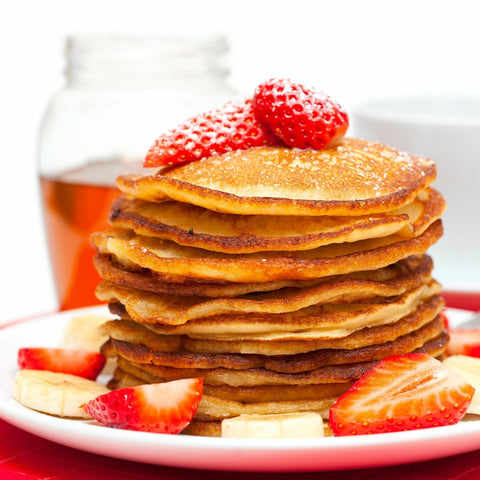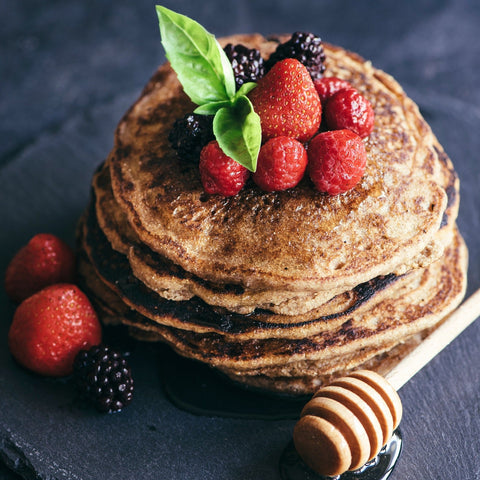 The Prepared Pantry
Honey Whole Wheat Buckwheat Pancake and Waffle Mix (24 oz.)
My favorite with these pancakes is caramel pear buttermilk syrup.
Buckwheat is a seed, not a grain.
Buckwheat lends a nutty taste to your pancakes.
Healthy! Made with buckwheat and whole wheat.

Hearty, but very good. Buckwheat has a chewy texture.

High in fiber. Each pancake has about 7% of the recommended daily allowance of dietary fiber and has only 90 calories.
Sweetened with honey--no sugar added.
I love these pancakes, but I love hearty, healthy pancakes with substance.

Not only are they satisfyingly delicious, but they are also packed with nutrients that your body will thank you for. Buckwheat is a great source of fiber, plant-based protein, and various vitamins and minerals, making it an all-around powerhouse ingredient.
Buckwheat pancakes make a wonderful canvas to explore. Everything from honey to fresh fruit works with buckwheat. We're especially partial to buttermilk syrup on buckwheat pancakes.
Merri Ann thinks I should eat healthy pancakes every day. She looked at the ingredients and at the nutrition facts and said, 'These are healthy pancakes!' She's looking at amaranth, flaxseed, quinoa, and whole grains. She's excited about three grams of fiber and five grams of protein in every serving. They're healthy.

But do they taste good? I love them. And our customers, in their reviews, really like them. (One said there were too many seeds.)
These pancakes are good and good for you.  They're healthy pancakes that taste great. And with all the grains, you would expect them to be dense. Instead, they're light and airy.
Makes great-tasting pancakes and waffles.
"I have used this mix for years. I will not use any other. My husband likes pancakes, and I prefer waffles. Both always turn out great,"  Sharon Harlow (from the 5-lb size.
"Lighter than a cloud. When I thought of "multi-grain" pancakes, I used to think of a dense, heavy pancake...such is definitely NOT the case with this wonderful mix! The pancakes are as light as a feather and cook up like they just came from a 5-star restaurant! AND, with all the various grains, they're actually fairly healthy, considering that they're pancakes/waffles! This mix is a MUST in our pantry!"  Sharon Roscher 
"The best multigrain mix I have found! Delicious. Don't need to add milk or egg. Easy, incredibly tasty, perfect with blueberries, bananas, or choc chips added."  Laura B Gschwandtner 
Keep this mix on hand. Have a great breakfast. Serve your family a great breakfast.
Ingredients: Enriched Bleached Flour (Wheat Flour, Niacin, Reduced Iron, Thiamin Mononitrate, Riboflavin, Folic Acid, Malted Barley Flour, May Contain Enzymes, Ascorbic Acid), Sugar, Rolled Oats, Crushed Wheat, Vegetable Oil (Canola Or Soybean), Dextrose, Soy Flour. Contains 2% Or Less Of The Following: Whey (Milk Protein), Salt, Quinoa, Nonfat Milk, Barley Flakes, Ground Flaxseed, Toasted Amaranth, Teff, Rye Flakes, Crushed Corn, Flax Seeds, Sesame Seeds, Natural Flavor, Spices, Sodium Bicarbonate, Sodium Aluminum Sulfate, Monocalcium Phosphate.
This mix contains wheat, soy, and dairy products and may contain traces of eggs or nuts.