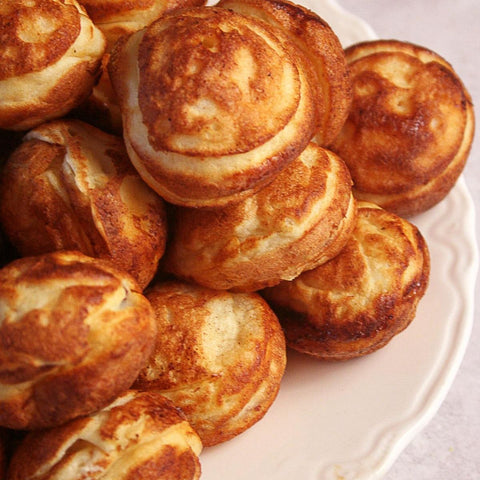 The Prepared Pantry
Classic Aebleskiver Mix Puff Pancake (2 lb)
$5.99
$8.49
you save $2.50
Now make your own puff pancakes with an aebleskiver pan!
This is how you make filled pancakes--Danish pancakes
Make lots of aebleskiver with this two-pound mix.
Choose whatever filling you like
Easy and fun to make. The kids love to help
Not just for the holidays. Great for Sunday morning too
This large 2-pound mix makes a nice aebleskiver, Danish pastries. This novel little breakfast food is as delicious as it is versatile. Fill them with jam, pastry fillings, or, applesauce--even cheese or chocolate--anything you can think of.
They're great, more than just breakfast food--lunch, dinner, or dessert. No matter your tastes, with aebleskiver there's plenty of room to personalize and experiment to your heart's content.
"Our Family LOVES these! Aebleskivers are such a fun breakfast for us on the weekends. So many ways to customize them with chocolate, jam, pie filling, or plain. My kids love to help fill them. They're so good! You just need to special pan and you gotta get the hang of turning them, but they're delicious, even if they're not pretty :)"  
"We love your abeleskiver mix. My grandchildren love to have them when they come to visit." 
Jim Turner
"Love the Aebleskivers. The mix is GREAT! Easy, yummy, and exactly what we wanted‼️
"  
You will need an aebleskiver pan to make these. But it's worth it--easy and so much fun. Make weekends special.
Ingredients: enriched wheat flour (wheat flour, malted barley flour, niacin, iron, thiamin mononitrate, riboflavin, and folic acid), sugar, buttermilk (dry cultured skim milk), baking powder, natural and artificial flavors, and salt. This mix contains wheat and dairy products and may contain traces of soy, eggs, tree nuts, or peanuts.
I ordered this and no where, I double checked, did it say that I would need a special pan to make this. And the instructions do not give me an alternate method. So not exactly sure how to deal with it. At the moment it is a waste of money for me.
Aebleskiver Mix
1 attempt at making this. Will need some practice. Mix taste is good.
Easy directions.
Love the Aebleskivers
The mix is GREAT! Easy, yummy and exactly we wanted‼️
So darn good! There isn't anyone who wouldn't love them!
Our Family LOVES these!
Aebleskivers are such a fun breakfast for us on the weekends. So many ways to customize them with chocolate, jam, pie filling, or plain. My kids love to help fill them. They're so good! You just need to special pan and you gotta get the hang of turning them, but they're delicious, even if they're not pretty :)