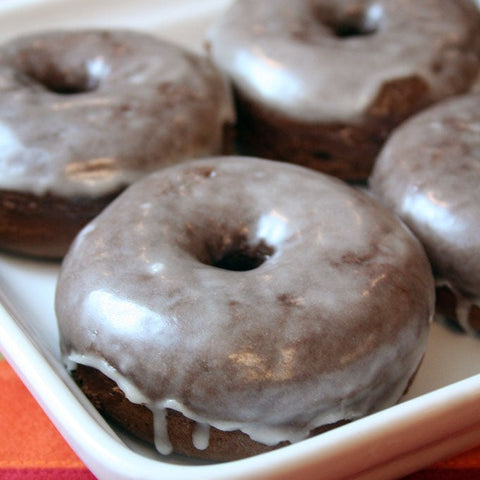 The Prepared Pantry
Chocolate Glazed Baked Donut Mix (1 lb 8 oz)
$6.99
$8.99
you save $2.00
Bake them in the oven like muffins
Each mix comes with a frosting mix
Makes low-fat, healthier donuts
Now, it is easy to make luscious frosted donuts at home and without the fat of frying. These are baked in your oven just as you would muffins. They come out of the oven tender, moist, and light. Stir up the included frosting mix and add any toppings. These are exquisite donuts.
"My husband came home from work and said, "Those don't look like homemade donuts to me. " He ate three before dinner."--Sarah
"They were so flavorful and soft and so easy to make. I bought more."--Helen H.
"They were very flavorful and a hit with the whole family."--H. Rice
"So easy and soooo delicious! Better than the local donut shop!"--Liz Berletson
"The double chocolate glazed donuts are wonderful."--Patricia"
Perfect for an activity with the kids, from a picnic to a movie.  Put a couple of these in your cupboard, and you're always ready for a party.
Ingredients: Powdered sugar (sugar, cornstarch), enriched wheat flour (wheat flour, malted barley, niacin, iron, thiamin mononitrate, riboflavin, and folic acid), sugar, cocoa, dry milk solids, natural and artificial flavors, and salt. This product contains wheat and dairy products and may contain traces of tree nuts, peanuts, soy, or eggs.
Not my kinda doughnut
I made this per directions and we didn't like them at all, not chocolatey enough and the frosting was blah
Review
As good as donut shop donuts. Only issue, having to make 12 donuts. Wondering if half the prepared mix can be refrigerated and used at another time. Another vender has two 6 donut mixes in each box. Haven't tried yet so do not know if as good as this product. Would love to see the donut mixes from Prepared Pantry boxed this way. Will use again for sure.