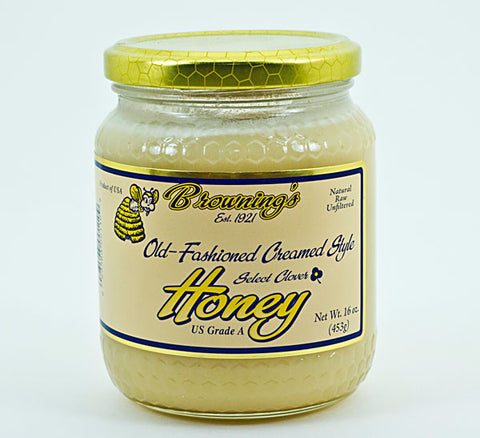 Browning's Honey
Browning's Old-Fashioned Cream Style Honey 16 oz
$9.35
$10.99
you save $1.64
Naturally gluten free with all natural flavors
Plenty of all-natural flavor perfect for toast, biscuits, rolls and sandwiches
Beautiful cream color that is delightful on any table
Cream-style Rocky Mountain honey, pure and easy to spread
Beautiful honeycomb jars that are perfect for gift-giving
Each large, attractive glass jar contains 16 ounces of premium honey.
Ingredients: Pure honey, natural flavor, color. No preservatives added.
Browning's Old-Fashioned Cream Style Honey 16 oz
Review
This cream style is wonderful!! I will be ordering more. The prices on items are Great...
Review
Cream style honey is hard to find in the grocery store. I am really glad that Prepared Pantry has this type of honey.
Review
This is wonderful on hot biscuits. It was a wonderful gift I received from a good friend. I am now stocking up on it for gifts to my family!! Fantastic taste!!