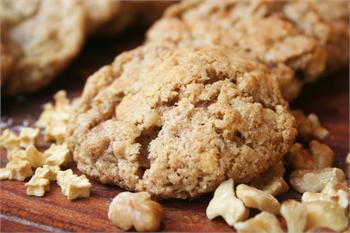 The Prepared Pantry
Breakfast Cookie Mix--Apple Cinnamon Nut
You've never had a cookie like this before! It's a hearty, healthy breakfast cookie. And surprise, you're kids will love it. Don't let them go to school hungry and save one for your commute too.
Ingredients: 100% Whole Wheat Flour, Sugar, Walnuts, Rolled Grain Cereal (hard white wheat, hard red wheat, oats, hulled barley, triticale and sunflower seed), Honey Powder (Honey, wheat starch, calcium sterate (anti-caking agent), and hydroxylated lecithin), Dried Apples (apples, sulfur dioxide), Baking Powder, Cinnamon, Baking Soda, Natural Flavor, Salt. This product contains wheat and nuts and is packaged with equipment that may contain traces of soy, dairy, peanuts, or eggs.
Breakfast Cookie Mix--Apple Cinnamon Nut
Review
OMG, these are delicious. Easy to make and perfect.