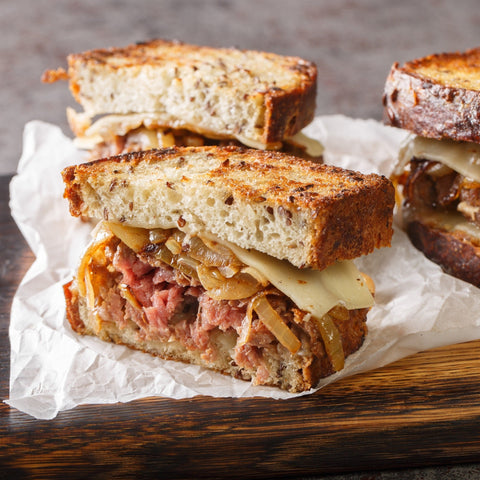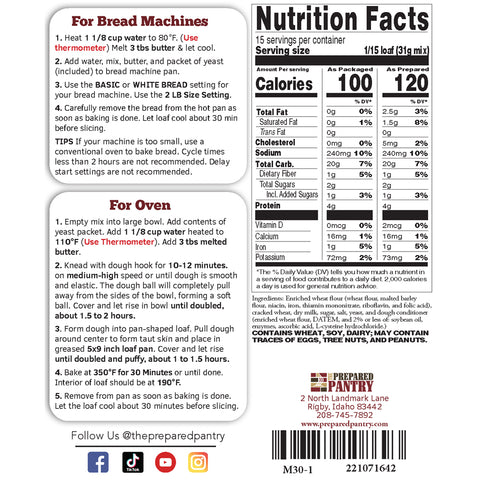 The Prepared Pantry
Big Sky Cracked Wheat Bread Mix
Make this with your bread machine, stand-type mixer, or by hand.
Frequently Asked Questions
Make this hearty, wholesome bread with its nutty taste for your family.
This is a heritage bread, a bread like our grandmothers made with finely cracked wheat to create a hearty, wholesome bread. Your family will like it too. This is an intriguing, premium bread with the right mixture of whole wheat and bread flour. Your family will like the sweet, nutty taste without the bitter aftertaste of some whole wheat breads.
It's wholesome but doesn't have hard pieces of chopped grains. The long cycle of mixing your bread and letting it rise softens the tiny grain pieces. They're chewy, not hard. Even your kids will eat this bread.
Give it a try, and add this to your cart.

"I am literally obsessed with your bread machine mixes. I have tried almost all of the varieties and can honestly say there isn't a bad one in the bunch. I like to make the dough in my bread machine and then let it do the final rise in a real loaf pan as I don't like the shape of the loaf my bread machine makes even though I love the convenience of it when it comes to making the dough. Your mixes make bread-making at home so simple and easy--my husband and I can't eat store-bought bread anymore. (why would we?) Your mixes are priced so well too, we can have a different flavor of bread, made at home, every week all for the cost of a premium store-bought loaf. I couldn't be more pleased. So happy I found Prepared Pantry!!!"  Laurie Bedard
Each package contains one wholesome mix. This mix makes a 1 1/2 pound loaf.
Bread mix
Just getting back into Bread making and these mixes are the best . Will be buying more soon.
I love the bread gave my neighbor a lot and now the neighbor wants some
Perfect!
While I'm obsessed with the ease of which I can make fresh bread in my bread machine, Big Sky is perfect.
Chewy bits of cracked grain have the time during my machine cycle to soften perfectly.
Not bitter or crunchy like other grains breads.
Perfect for chicken salad & avocado sandwiches or French Toast.
I love the sunflower seed breads too, but Big Sky is in my top 3!
Starting a loaf now.