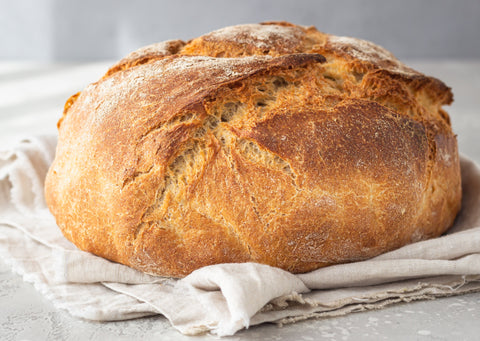 The Prepared Pantry
Baker's Dry Milk (High-Heat Treated Nonfat) 12 oz
Baker's Dry Milk Makes Better Bread.
Important note: This is not instant dry milk which is not high heat treated, and it is not intended for table use. The taste is a little different, and it will not dissolve as readily in water. It dissolves in the bread as you knead the dough.
High-heat treated dry milk is a nonfat milk product, but it has been produced at higher temperatures to destroy certain enzymes naturally found in milk. These enzymes in milk will degrade the gluten structure in bread dough. Because of this, commercial bakeries use high-heat treated dry milk in their yeasted products.
We add this or dry buttermilk to most of our bread mixes. It improves the flavor of the bread. We love this product.
Ingredients: Nonfat dry milk. This product may contain traces of soy, eggs, wheat, or nuts.
perfect quality
I've been buying and using this for many years. I cannot find an equally high quality treated dry milk that compares. It also adds a dimension of flavor to my whole wheat sourdough sandwich loaf breads besides improving texture and rise. Highly recommend.
Excellent bread making addition
This dry milk powder is comparable to King Arthur's which I have used for years. It keeps the bread moist and adds extra shelf life to the loaves. I recommend this milk powder from The Prepared Pantry…and I also appreciate the speed with which they process and send out my order.
Awesome product
I purchased Baker's Dry Milk based on reviews on how much more consistent breads turn out, the results have been outstanding. I have used it in my potatoe bread, sourdough and recently in a cinamon raisin bread. Fantastic results.
Review
High quality bakers dry milk. Works great with white bread. Will be using in other breads later.