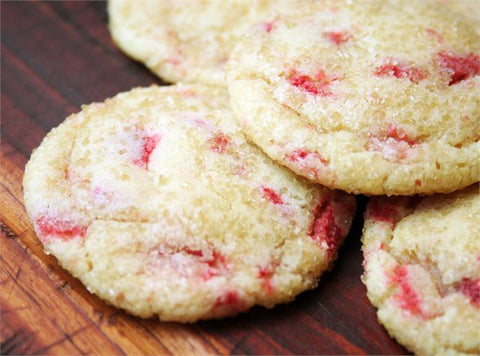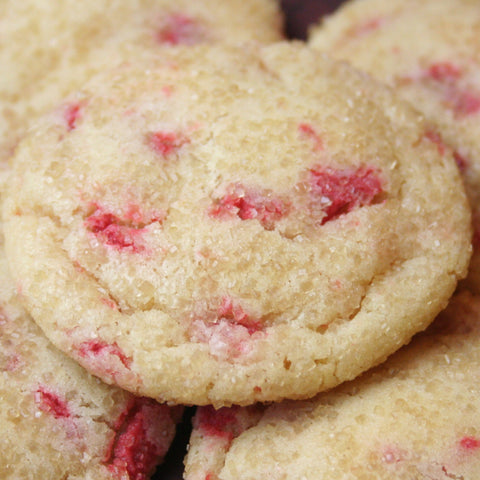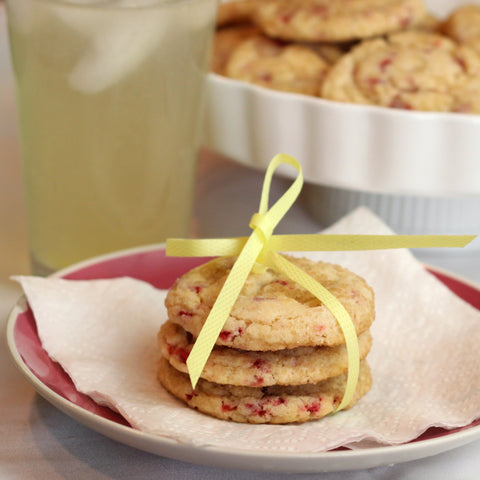 The Prepared Pantry
Strawberry Lemonade Cookie Mix
$7.99
$9.99
you save $2.00
Loaded with sweet strawberry bits in a lemonade cookie
Crunchy sugar pieces on top of a chewy lemon cookie
"So easy no one will believe it."
All you add is butter and eggs
Makes 30 good-sized cookies
"Addictive cookies" People buy them over and over
Perfect balance of sweet strawberry bits and lemonade
"Really Delicious! (and so easy no one will believe it). Another fantastic cookie mix! This mix made a little over 2.5 dozen larger cookies, so there is plenty to enjoy or share. . . .  I would definitely buy this mix again, the cookies were THAT good!"    Rebecca Zastrow  
"I baked these for the first time today. My husband (who never really says a lot about his food) said WOW....WOW these are really good!!!! Now you don't know him, but that really say's a lot! I loved them too. Ordered more today."  Pat 
"We really loved this cookie! My husband picked this one to try which surprised me. He is normally a chocolate lover but said this sounded interesting. We were not disappointed! A great light strawberry butter cookie with a lightly sweet lemonade flavor. Our family found these very addictive!" Terri Hoover
These cookies will take you back to the lazy days of summer--strawberry lemonade in a cookie. They're real lemonade cookies. They taste like fresh lemonade, not the lemon flavor that you might expect. These are the real deal. 
It's sweet strawberry bits against a lemonade cookie in perfect balance.  Then they're coated with crunchy turbinado sugar. What a nice strawberry lemonade cookie!
Share your summer cookies with your family . . .  and your friends--even if it's not summer.
The best cookie
I haven't had a bad product from this site. I would recommend it to anyone.
Excellent Treat
I made them and shared them with family & friends. They ALL loved them. Just enough sweet & sour.
Really Delicious! (and so easy no one will believe it)
Another fantastic cookie mix! This mix made a little over 2.5 dozen larger cookies, so plenty to enjoy or share. You just add a stick of butter, 1/2 cup shortening and 2 eggs. The only thing I wish were changed is that the sugar packet for step 1 and the sugar crystals for last step are together in the loose mix inside the bag. A better idea would be to have the everything in separate packets inside the bag, and labeled Step 1, Step 2, etc. As it was, the packets were covered in dry cookie mix and it was a bit messy. But I would definitely buy this mix again, the cookies were THAT good!
Review
They were really good. Will order more thank you
Review
We really loved this cookie! My husband picked this one to try which surprised me. He is normally a chocolate lover but said this sounded interesting. We were not disappointed! A great light strawberry butter cookie with a lightly sweet lemonade flavor. Our family found these very addictive! We will be buying more when they are back in stock.