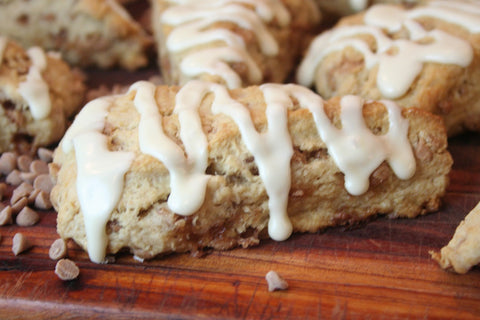 The Prepared Pantry
Auntie Mabel's Frosted Cinnamon Bun Scone Mix
Learn how to make fabulous these cinnamon bun scones that may taste better than those in a genuine English tea shop and definitely better than most coffeeshops!
There's a simple rule to fabulous scones: Start with rock hard butter. Then cut the butter into the flour mixture with a pastry knife without the butter melting--like in the picture below. Little pieces of butter is what makes scones flakey. Start with hard butter, mix quickly, and put them in the oven.
We discovered these scones in a little coffee shop in the Midwest. We loved them.
"How can we make them even better?", we asked. We can make them higher and lighter, we said. We can add more cinnamon chips. We can make it richer with a little sour cream. We can drizzle it with a velvety, rich icing.
We did all those things. Then we tinkered and tinkered it to get it just right. Finally, we served them to our customers in our store just to make sure. Then we had to explain to disappointed customers that they couldn't buy the mix just yet.
You'll find these cinnamon scones perfect for breakfast, brunch, or that company lunch. Imagine serving steamy, hot scones with the aroma of cinnamon and vanilla drifting through your home. You and your guests will love them.
Ingredients: Enriched wheat flour (wheat flour, niacin, iron, thiamin mononitrate, riboflavin, and folic acid), cinnamon chips (sugar, palm oil, cinnamon, nonfat dry milk, and soy lecithin (an emulsifier)), powdered sugar (sugar, cornstarch), sour cream (dehydrated sour cream), baking powder, meringue powder (egg whites, vanilla, and sugar), cinnamon, natural and artificial flavoring, baking soda, and salt.This product contains wheat, dairy products, and eggs,and may contain traces of soy, tree nuts, or peanuts.
Very satisfied
Like what I have made so far
Moist and light scones
These scones were easy to make and lasted a few days, moist and tasty!
easy to make love the chips
these scones are rich with wonderful cinnamon bursts
Best scones ever!
These scone were awesome. I make scones a lot. These were flavorful and tasted home baked.