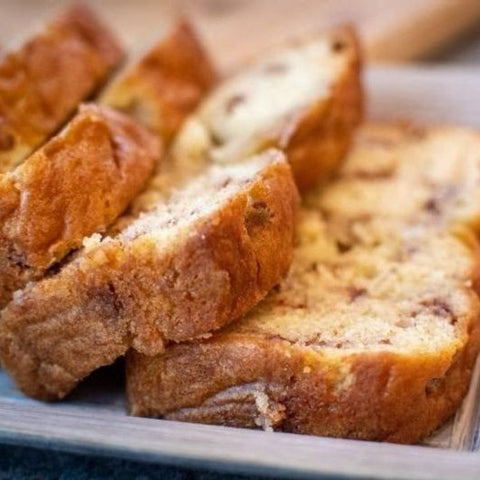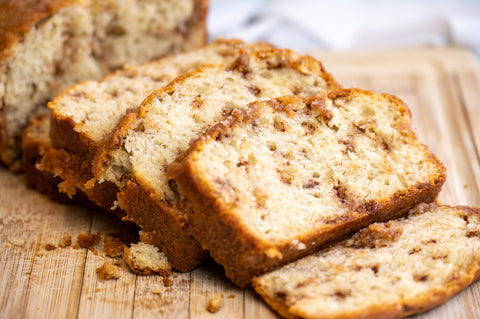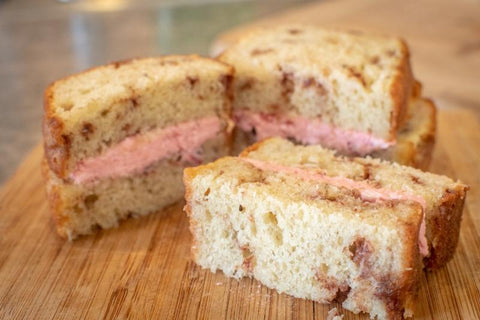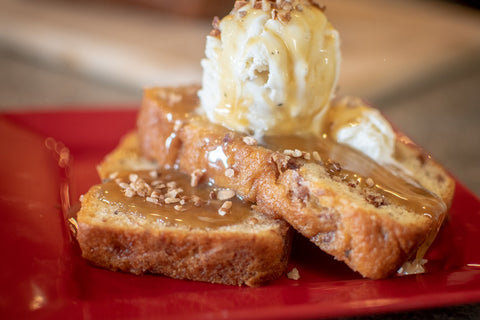 The Prepared Pantry
Cinnamon Chip Banana Bread Mix
$5.79
$7.49
you save $1.70
Makes a large 9-inch by 5-inch loaf
Perfect for a busy day. Only three easy steps
You add only eggs, oil, and one cup ripe banana
Cinnamon chips make this the best banana bread ever. You get a burst of sweet cinnamon in every bite.  It's great banana bread made even better with cinnamon chips.  
You haven't lived until you've tried cinnamon chip banana bread.
"Best ever! This makes the best banana bread EVER. Every time I make this bread every single person that eats it tells me, Oh wow, this is SO good. I've been known to make pretty darn good banana bread in the past, from scratch. This is better and easier. Highly recommend."--Christi M
The cinnamon chips, they're a game-changer.  Plus, the extra banana flavor. Plus, the moist pound cake.

"This is a dessert bread that really surprised me! I wouldn't have thought to put cinnamon chips in banana bread, but WOW! It is truly awesome! Definitely worth trying!" --Meledie Knopf
 It's easy to make a masterpiece. You can make a cinnamon chip masterpiece.
"I'm a fan of cinnamon chip banana bread. The whole loaf seems to vanish before my eyes. I love this addictive bread. Thanks for the opportunity to share your masterpiece." -- John Siestreem
It really is addictive. 
"Best banana bread ever! So easy . .  . awesome. I bought more to make more." --Carol Fernandez
The best bread
The cinnamon chips are so good and are a great addition to many cookie recipes even in coffee!!!!
I have just started using this product and love it will be ordering more from this company
Best I've Had
This mix makes the best banana bread I've ever had. It is excellent.
Simply The Best!!!
I make this every week, sometimes twice a week. It is exceptionally good. My hubby and I eat this everyday for breakfast. Son is always wanting some. It's a hit around my family. Makes perfect loaf every time. Please make this a keeper. I use the cinnamon chips, the banana flavoring, cinnamon topping for a lot of things. Thank you!!