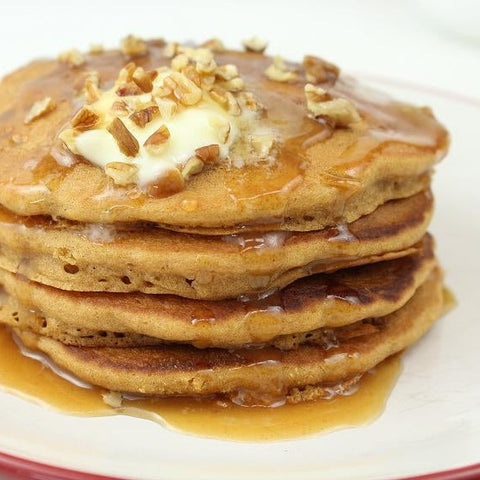 The Prepared Pantry
Butter Pecan Sweet Potato Pancake Mix (24 oz.)
These "Naturally Good Pancakes" will remind you of the candied sweet potatoes your grandmother used to make. These have enough butter flavor to make I melt right on your tongue that contrasts perfectly with crunchy pecans in every bite
You'll love these pancakes--they're fantastic! We highly recommend them. Give them a try!
Naturally Wholesome Pancakes" from a small town in the Rockies
Bestselling pancakes packed in a resealable Mylar bag to keep them fresh
Made with sweet potatoes and having enough butter flavor to make them melt right on your tongue that contrasts perfectly with crunch pecans in every bite
Made with healthy, natural ingredients including carefully milled, farm-raised sweet potatoes--for homestyle goodness and nutrition
Easy to make: JUST ADD WATER. No eggs or milk are necessary!
I gave this pancake mix as a gift
In love
These were easy and delicious! I will be ordering more.
Butter Pecan Sweet Potato Pancake Mix
We took the pancake mix to our family reunion and our kids and grandkids really enjoyed it! We will be buying again soon! Thank you for being awesome!
Light, Fluffy and Full of Flavor
All the flavors came through. Pancake texture was very light and fluffy.
YUM!!
Very good!! Our grandkids certainly enjoyed them!!