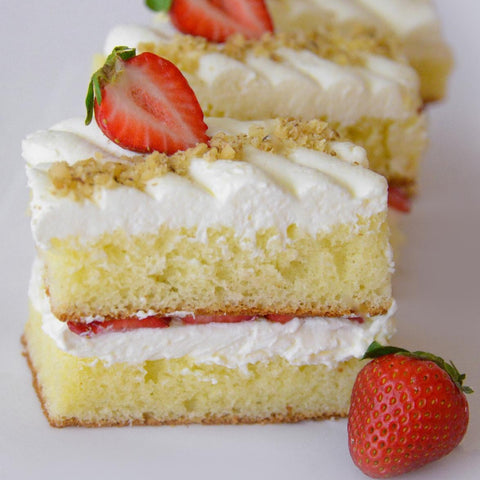 The Prepared Pantry
Vanilla Bean Baby Cake Mix
$4.79
$5.69
you save $0.90
Cream cake mix--"pudding in the mix"--with more substance than store mixes
Designed for cupcakes.
If you make cupcakes, you need these mixes in your pantry.
Makes 20 cupcakes, a layer cake, a 9x13-inch cake, or a bundt cake
Made with real vanilla bean flecks from ground vanilla beans
It's absolutely fascinating what you can make with this mix! This is our adventure cake. When we feel creative and need a mix for a dessert, this is what we reach for.
This is the best vanilla cake mix you can buy.
It's not like store mixes. It's a cream cake mix with pudding in the mix. It's more moist and dense. It balances better with frosting. 
This is not just a cake mix; it's a dessert mix. With vanilla beans and better ingredients, this makes a better cake. It's more moist and has more substance--more cake-in-your-mouth satisfaction.
You can do more with it. With a store mix, chocolate chips sink to the bottom. With a cream cake, the chips stay suspended.
It's guaranteed better. Give it a try!
So good!
Without a doubt this is the best vanilla mix available.
Excellent cake!
Just baked this last night and it was so good! Didn't even frost it but sifted a bit of powdered sugar over the top. Very moist and tasty!
Vanilla bean baby cakes
These are so delicious. Made these for a church function. They were a big hit. They are so moist and have a rich vanilla taste.