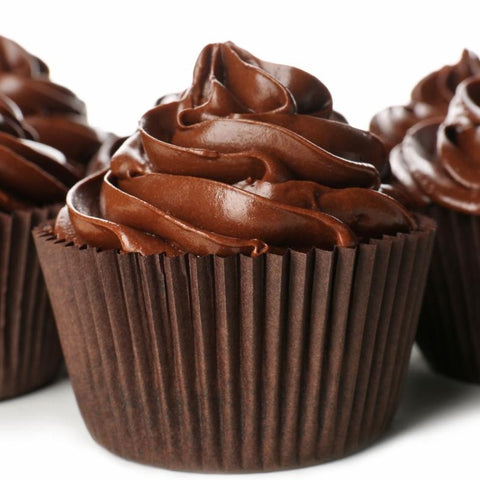 The Prepared Pantry
Better than Buttercream Chocolate Frosting Mix
This is better than buttercream! Chocolate lovers LOVE this!
"This is the best buttercream frosting you can buy. it's very decadent. I will buy it over and over."  

 
Buttercream is the standard for cupcakes. No more! At least for chocolate, you have a better answer.

We spent weeks developing this; a simple chocolate whipped cream frosting that would beat buttercream. The problem wasn't taste; whipped cream always tastes better. It was durability, and this is as durable as buttercream.
Buttercream frosting is based on butter, shortening, or a combination of the two. It uses either egg whites or meringue powder to retard melting. It tastes good but wouldn't you rather have whipping cream?
Whipped cream is a better answer: less fat. But when it's made with Ramstadt Breda cocoa, it tastes fabulous. And holds up just as well as buttercream.
Baker's note: Buttercream, and this frosting, won't last long. It starts to sag after a while. It's perfect the first day; not so much after that. Whipped cream tastes better buttercream. This frosting has plenty of meringue powder added to retard melting. It's a great frosting but it's best the same day.
Directions: Add two cups of heavy whipping cream and beat until stiff peaks form.
Made with gourmet Ramstadt Breda cocoa for the best chocolate frosting
Makes light, fluffy buttercream frosting just like the professional bakeries.
Perfect for spreading or a pastry bag.
Each mix makes approximately four cups of frosting.
Will frost 20 to 24 cupcakes or a layer cake.
so yummy
this is the best buttercream frosting you can buy. its very decadent. i will buy over and over
Review
This frosting is the best I've ever had. Not overly sweet - just the way I and family like it....
Review
My family isn't into that over-the-top sweetness and richness. We loved it! If you want sweeter add sugar or just stick your tongue in the sugar bowl. Enjoy
Review
This frosting mix is perfect the way it is....
Review
This is good, but it tastes more like mousse than frosting! I would buy it for mousse any day, but for frosting, it's just not sweet enough.