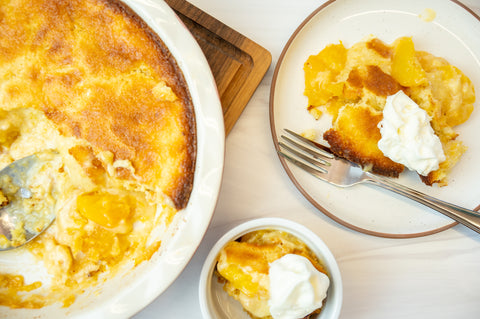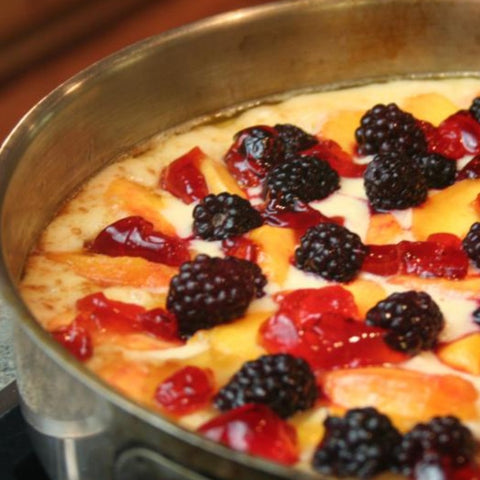 The Prepared Pantry
Skillet Cobbler Mix
It's easy because it's a mix. Use any fruit.
Down home comfort food at it's best
Better than other cobblers. "The best and fastest dessert ever."

Create your own cobbler. Any fruit. Any combo.
Almost foolproof. It's a mix.

Use a mix, not a recipe.  Quicker, easier
Simple. Different. Put the fruit on top. It sinks during baking.

Bakes beautifully in a 10-inch skillet, a baking dish.
It's so easy! All you have to do is prepare the batter following the directions on the back of the packaging, pour the filling over the top, and bake! The batter rises to the top and folds over the fruit, forming a golden crust as the fruit peeks out.
This creates such an attractive and comforting dessert that will take you back to simpler times.
Skillet cobblers are the best. But what's really fun is that you can choose your own fruit, even crazy combinations.
"Best and fastest dessert ever. We have been using the skillet cobblers for several years. They are easy to make and a delight to serve. The suggestions for fillings on the package are only the start. I create different ones every time I make one."  Jolene Callison-Weigel 
Use any fresh or frozen fruit you have on hand to make a simple and comforting dessert that can be enjoyed any time of the year! It is sure to impress every one of your dinner guests.
"A pineapple cobbler? My family loves this pineapple cobbler. Who would have guessed it?"  Lily 

"Cool! Love this mix. A 20 oz can of pie filling is just right. Next, we're going to try local, fresh apples. Then, again while camping. This mix and method is super easy and delish!!!"  Robert Bigelow 

"Easy but fabulous."   Carol Worthy 
The fruit is not included in this mix, so it is the perfect base for experimentation. The options are endless! If you love cobbler, give this skillet cobbler mix a try!


See 18 cobbler suggestions. Make a different one every time.
So killet cobbler
Very good and easy to make. Really like it.
Wonderful mix and recipes. Made both apple and blackberry cobbler - preferred the berry.
Just tried the potato honey bread - amazing mix. Looking forward to using that mix with your baked French toast recipe.
Love your products, service and creative recipes.
Haven't had a chance to try it yet it's on the menu for Thanksgiving