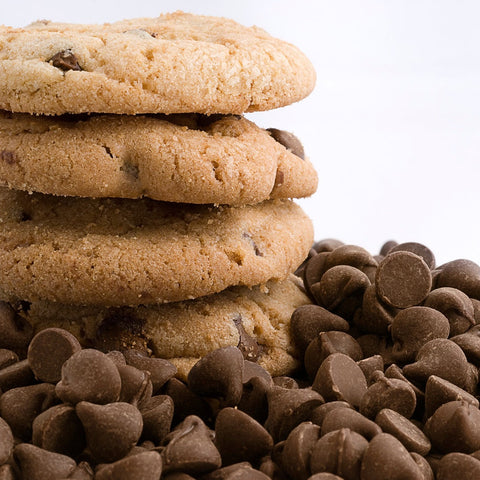 The Prepared Pantry
Free with a $10 purchase. Dad's Famous Chocolate Chip Cookies. Limit 1
$0.00
$6.99
you save $6.99
Try these chocolate chip cookies. They're "ammmmazing!" Really good cookies with really good chocolate.
We got the original recipe from a fine chocolate producer and then tweaked it again, and again. We made hundreds of cookies trying to find just the right combination of brown sugar, caramel, and butter. 
We bumped up the brown sugar. That gave us the right chewy texture--and then we added a fabulous caramel flavor that we found in Chicago. That's the touch we had to have!
Oh, and we put lots of chips in. We think we perfected it.
"So delicious!! So buttery, soft, and delicious! Everyone loved these. They're the perfect chocolate chip cookie!"  Felicia Wright
"Amazing cookie! Wow. It's like all your favorite chocolate cookies in one bite. I wish we would have ordered a few more bags. Will be ordering more soon."  Janelle Farias
Make these for your family.  If you don't find them "the best chocolate chip cookies", we'll give you your money back.

Give them a try.
Easy and quick cookies
For those who need a quick cookie fix, this is the bag of goodies! Easier than Tollhouse chocolate chip cookies. If you are looking for Tollhouse taste, these are close. I used my 1 3/4 tbs scoop and came up with 19 cookies. They lasted nearly the rest of the day. 🤣
Dad's chocolate chip cookies
They were delicious. Bit too sweet and plenty of chips. Easy to prepare. They went quickly!
Grandkids cookies
Very easy for the grandchildren to make the cookies as a family, soft and chewy's added M&Ms to make them taste even better
Dad's Famous Chocolate Chip Cookies
Great cookie. We all loved them