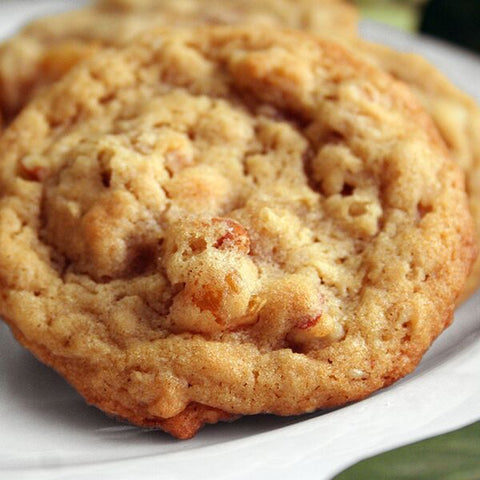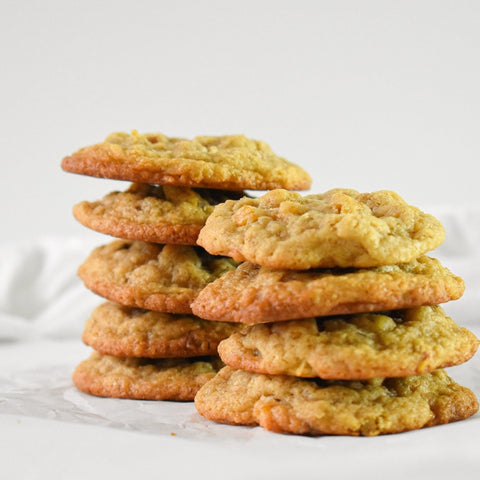 The Prepared Pantry
Caramel Pear and Toasted Pecan Cookie Mix
These are fantastic gourmet cookies, made with real pears and pecans!
Caramel Pear and Toasted Pecan Cookies are soft and moist, loaded with pears and crunchy pecans.
Cookies with pecans are good. Cookies with pears are fantastic! If you've never tasted cookies with pears, you're in for a treat! You deserve the experience.
The premium Lake Country pears make them a little chewy with bursts of sweet fruit flavor. The pecans lend crunch. The caramel flavor is just right.
These cookies are loaded with pears and pecans--real pears, not pear flavor. They are fantastic gourmet cookies.
This is a large mix, twice as big as many cookie mixes. It makes three to four dozen cookies depending on the size you choose to make.
When you want the very best, cookies that will impress, get these. If you don't think they are fantastic, we'll give you your money back.
Good quality, soft, chewy cookie
This was a good cookie but I gave it a 4 out of 5 because it needs something else to enhance the taste. Pear doesn't taste like much normally so they are relying on the pecans to be enough and they are not. Perhaps adding coconut or another ingredient to bring out the flavor more.
Heavenly!
This is one of the most flavorful andceasy cookies ever. It's a family favorite and we'll be ordering regularly.
Prepared Pantry has nothing but the easiest, fool proof bread and cookie mixes ever. Delicious and cannot fail. My only problem with the Caramel Pear and Toasted Pecan cookies was that they disappeared SO FAST!
Absolutely delicious.
One of a kind pairing of ingredients creates a uniquely delicious cookie.